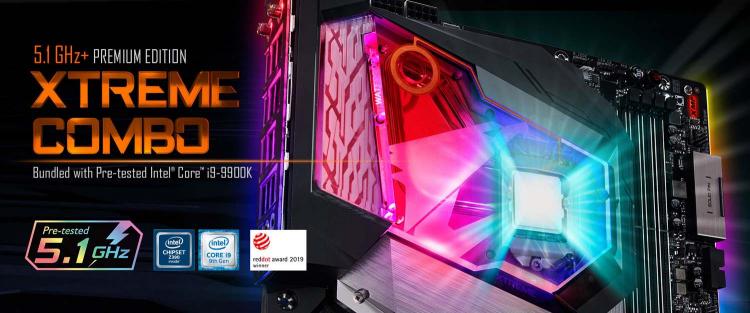 GIGABYTE presents its most expensive high-performance hardware bundle yet featuring the brandís flagship Z390 motherboard and a cherry-picked Intel Core i9-9900K processor thus presenting the Z390 AORUS Xtreme Waterforce 5G. The GIGABYTE Z390 AORUS Xtreme Waterforce 5G factory overclocked the i9-9900K processor to 5.1GHz with its 5.1 CPU multiplier. The motherboard comes with a high-performance CPU and VRM monoblock from Bitspower to cool down the 8-core, 16-thread overclocked processor.
GIGABYTE
and
Intel
presents the Z390 AORUS XTREME WATERFORCE 5G Premium Edition Bundle, pairing 2019 Red Dot Award Winner Z390 AORUS XTREME WATERFORCE with a handpicked and professionally overclocked i9-9900K processor. The Intel Core i9-9900K has been professionally installed with high-performance thermal paste making it ready for PC building. The BIOS has also been professionally tweaked and no further configurations required which could also complicate the pre-set 5.1GHz overclock. Additionally, GIGABYTE engineers have already stress tested the motherboard with all cores at 5.1GHz or higher with excellent stability.
Pricing and Availability
GIGABYTE Z390 AORUS XTREME WATERFORCE 5G Limited Edition Bundle is now available at selected retailers with an MSRP of $1,899 USD. Learn more about the
GIGABYTE Z390 AORUS XTREME WATERFORCE 5G here
.