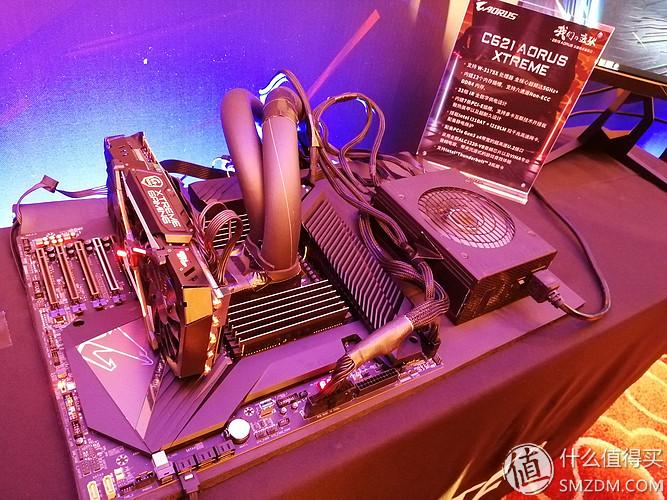 Intel
's beyond high-end Xeon W-3175X has had plenty of coverage in industry press since its first outing at Computex 2018. Few motherboards have been released to support the overclockable 28-core CPU monster however, perhaps reflecting the chip's breathtaking requirements and niche applications. None the less
GIGABYTE
appear to be joining this exclusive cohort with the
C621 Aorus Xtreme
motherboard, a design that was recently showcased at an event in Beijing covered by SMZDM.
Based on the Intel C621 chipset, GIGABYTE's C621 Aorus Xtreme is a motherboard for Intel's LGA-3647 CPUs that has been adapted from workstation-class platforms specifically for the Xeon W-3175X. Almost every aspect is dialled up to eleven, including its 32-phase power delivery, dual 24-pin and four 8-pin EPS power connectors, and super-sized EEB form factor. It appears that GIGABYTE will brook no compromise in this instance.
Beyond that yawning socket and power requirements, the memory setup is also distinctly at odds with mainstream expectations. A total of 12 available DIMM slots are for hexa-channel (6-channel) memory, an arrangement which recently saw wider manufacturer support through the
G.SKill
and
Corsair
192GB 12-DIMM kits.
At stock settings the Xeon W-3175X has a reference TDP of 255W, so it's no surprise to see overclocked demonstrations resort to high-end water-cooling solutions. However, conventional retail Intel desktop cooling solutions are unlikely to be supported on the finished design when it becomes available, so expect to see specially adapted waterblocks and coolers that conform to Xeon workstation form factors make a more regular (if still exceptionally rare) appearance.
In contrast to the high-end features detailed above, other aspects of the motherboard reflect the prosumer nature of the platform. It supports 6 SATA connectors, 7 PCI-E slots, multi-channel audio, dual ethernet and Thunderbolt 3, all under the clear assumption that this is not just a workhorse but also part of a system for both work and play.
GIGABYTE's C621 Aorus Xtreme should go up against the Dominus Extreme, ASUS ROG's own C621-chipset platform for the Xeon W-3175X, in the very near future. And just like the $1,800 Dominus Extreme we can expect this design to be in a very exclusive price bracket.
SOURCE
:
SMZDM.com