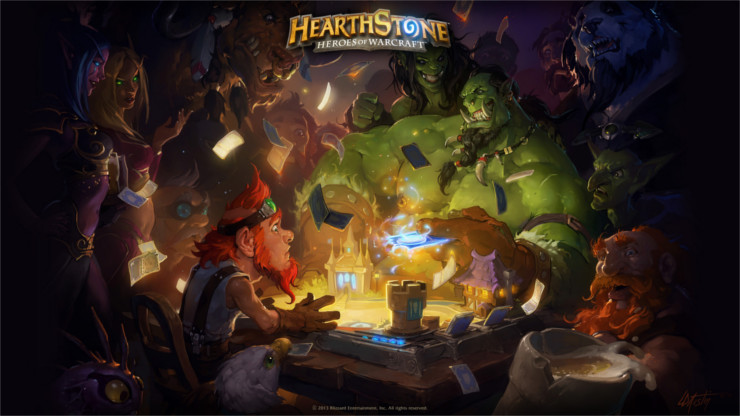 If you've been lucky enough to get into the Closed Beta for
Hearthstone
-
Blizzard Entertainment
's latest title - you've probably whiled away many an hour summoning Novice Engineers and casting Fireballs at Yeti's. The digital card game has proved to be enormously popular in its six-month public life-span thanks to its casual sensibility and good balance, leading to an illicit market in beta keys costing well into three figures for those desperate to get onto the bandwagon early. Not quite the most unlikely of nascent E-sports, Magic: The Gathering is well into its twentieth year proving demand for both card games and coverage, it's nonetheless become enormously high-profile in a shockingly short time.
Thankfully the Open Beta for Hearthstone has just been launched in the US, a little later than planned and still with some work needed but a whole lot of fun nonetheless. Rather than needing to get lucky with a giveaway or invite all you'll need from now is a Battle.net Account and a stable internet connection. Even a credit or debit card isn't required as the game embraces a Free To Play model - constructed matches in Play or Practice Mode are free, although you are limited to the cards you have acquired yourself.
Before starting however its worth noting that the game still leverages micro-transactions quite heavily. Completing in-game achievements against AI will net you a swath of basic cards but 'Expert Cards' can only be found in Expert Packs, costing up to £0.99 each. Each Pack contains five random cards with one guaranteed rare, and so expanding your collection to every card in the set will require both luck and money (or an epic amount of time). Even so decks created with just the easily acquired cards can be surprisingly competitive at lower echelons of play.
Arenas, Hearthstone's take on the 'Limited' gameplay format, will cost £1.49 or 150 gold (Hearthstone's in-game currency) but do come with an guaranteed Expert Pack prize no matter your record. You can take as long a break as you want between Arena rounds, picking it up even a month later. Apart from the Pack, the prizes awarded are in the form of Gold, Dust (used in card crafting) and additional random cards or packs. If you're good enough to win an average of more than seven rounds you can 'go infinite', effectively never having to pay real money for an Arena ticket.
There are still some niggling bugs which need to be fixed before the game is ready to exit Beta, but for now you can play to your hearts content.