Today
Intel
are broadening their 10th Generation Core Mobile CPU lineup by
including eight new CPU designs
alongside previously disclosed 10nm 'Ice Lake' chips. By offering as many as six cores and twelve threads within a nominal TDP envelope of 15W (configurable up to 25W), new U-series and Y-series SKUs will represent performance gains of up to 16% over the previous generation. This is in part down to the addition of a 6-core, 12-thread flagship: the
Intel Core i7-10710U
.
At the beginning of August Intel
launched the 10th Generation U- and Y- CPU Series
, which were based on the brand new 10nm Ice Lake architecture and feature new technologies such as a beefier iGPU architecture and hardware acceleration for AI inferencing. Memory manufacturers were also lifted by Ice Lake's more powerful memory controller that can support up to DDR4-3200 memory, an advance that would also suit applications hungry for memory bandwidth. According to early testing, Ice Lake's Sunny Core core architecture represents a substantial (double-digit) IPC improvement over the Skylake-based CPU core utilised across the last few generations of 14nm products, and all of these factors add up to a range that will surely be in high demand when laptops and low power desktops become available later this year.
The catch is that the additional CPUs unveiled today will not feature Ice Lake's architectural improvements. 'Comet Lake' is instead based on veteran 'Whiskey Lake' (Skylake derived) designs, but expands the core count from four to a total of six (twelve logical cores thanks to Hyperthreading). As a consequence the 10th Generation laptop and low-power desktop CPU range is immediately segmented beyond just Y- and U-Series and into AI vs Productivity:
Intel 10th Gen "Comet Lake" CPUs will feature:
Up to 6 cores and 12 threads
Up to 4.9 GHz max turbo frequency
Up to 12MB Intel Smart Cache
Configurable up to 25W for maximum performance (U-series)
Configurable down to 4.5W for 4-core fanless designs (Y-series)
Up to 1.15 GHz graphics frequency
LPDDR4x, LPDDR3, DDR4 memory speed increase to 2666 MT/s
Unfortunately the new CPUs slip rather awkwardly into Intel's 10th Gen naming scheme as they inherit conventions from previous generations.
The reasons for Comet Lake's release make sound business sense given the requirements of OEMs but are almost guaranteed to contribute significantly towards consumer confusion. Hopefully it will be cleared up in time for the 11th Gen launch next year, but we wouldn't bet on it.
Critically, 10th Generation platforms will all incorporate Wifi 6 networking connectivity (a much-needed upgraded wifi standard) and Thunderbolt 3 (on-die in the case of Ice Lake). OEMs will also have access to
Intel Adaptix
technology, a means of tailoring CPU TDP to the capabilities of the notebook chassis design for improved performance (hence the 10th Gen's 'Configurable TDP' upper limits).
10th Gen Ice Lake vs Comet Lake Overview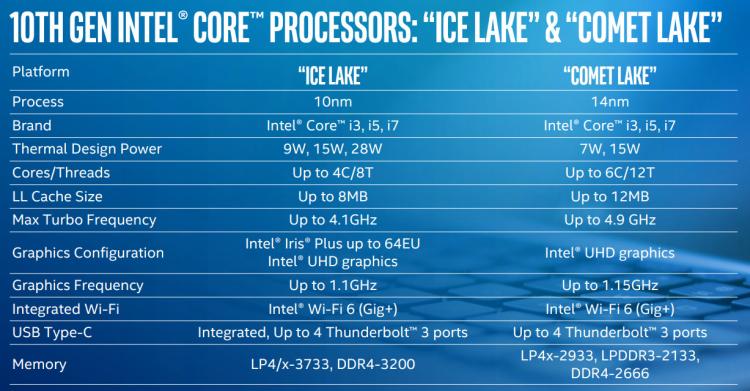 10th Generation Comet Lake Y-Series and U-Series Product Lineup
It's speculated that Comet Lake presence in the 10th Gen is necessary due to a couple of factors. The most obvious is performance: Ice Lake scales well to a point, but maximum per-core clock speeds are significantly lower than 14nm Comet Lake, potentially wiping out the IPC gains. The other is manufacturing capacity: it's possible that 10nm output simply isn't high enough to satisfy anticipated demand, requiring a stop-gap for 2019.
Laptops incorporating Intel's 10th Generation platform should be well entrenched by the 2019 holiday period (late November). More information can be found at
Intel.com
.