Press Release
KLEVV is excited to unveil two new high-performance DDR5 overclocking memory, the KLEVV CRAS V RGB and the KLEVV BOLT V.
QUALITY UNMATCHED, PERFORMANCE UNRIVALED
Designed to cater to a wide range of users, the CRAS V RGB and BOLT V DDR5 memory empower all aspects of computational requirements. They deliver outstanding performance on the latest AMD and Intel platforms, from gaming to content creation, with Intel® XMP 3.0 and AMD EXPO™ overclocking features. (Note*)
Furthermore, the CRAS V RGB and BOLT V DDR5 memory are fully battle-hardened, passing the QVL tests required by major motherboard manufacturers. With strictly selected memory chips and meticulous manufacturing processes, they ensure the highest level of reliability, tailored to perform multitasking operation effortlessly.
KLEVV CRAS V RGB: LET THERE BE LIGHT
Released under KLEVV's flagship memory range, the CRAS V RGB memory features modern design refined with exquisite attention to detail. Precision-crafted aluminum heatsink highlighted by signature RGB lights visible on both the top and fine gaps on the sides makes for a sight to behold.
The RGB lights are fully customizable and controllable with third-party software provided by world-renown motherboard manufacturers like ASUS, ASROCK, Gigabyte, and MSI with corresponding hardware, serving as the centerpiece of any build.
The 32GB (16GBx2) 288 Pin DDR5 unbuffered DIMM kits are available in four base clock options starting at 6000MT/s, 6400MT/s, 7200MT/s, 7600MT/s, and extending up to blazing-fast 8000MT/s.
THE BOLT V: SUPERIOR PERFORMANCE AND OC POTENTIAL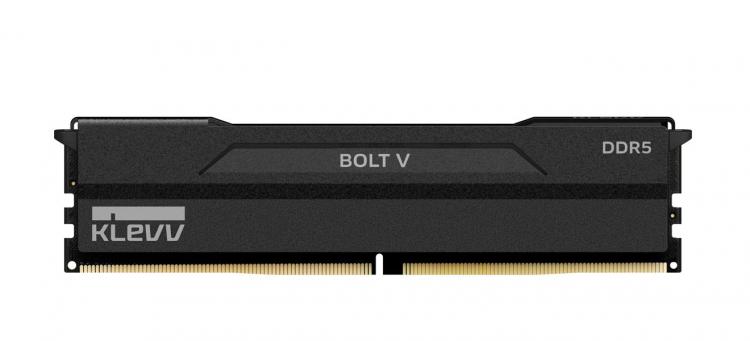 The KLEVV BOLT V brings DDR5 technology in a newly designed frame, targeting users that look for raw performance and overclocking potential. It is the perfect companion for heavy multitasking and gaming.
In addition to a pure aluminum heatsink for heat dissipation, the BOLT V has a unique minimalist design and an ultra-low profile 34mm tall frame that provides extra clearance for CPU coolers and custom liquid cooling loops enabling users with limitless personalization of their rigs.
The KLEVV BOLT V is available in 32GB (16GBx2) 288 Pin DDR5 Unbuffered DIMM kits with three clock-speed choices of 6000, 6400, and 6800MT/s.
Availability
The latest KLEVV CRAS V RGB and the KLEVV BOLT V memory will be available from Q2 2023. To learn more, please visit the product pages below.
KLEVV CRAS V RGB DDR5 Memory
KLEVV BOLT V DDR5 Memory