Press Release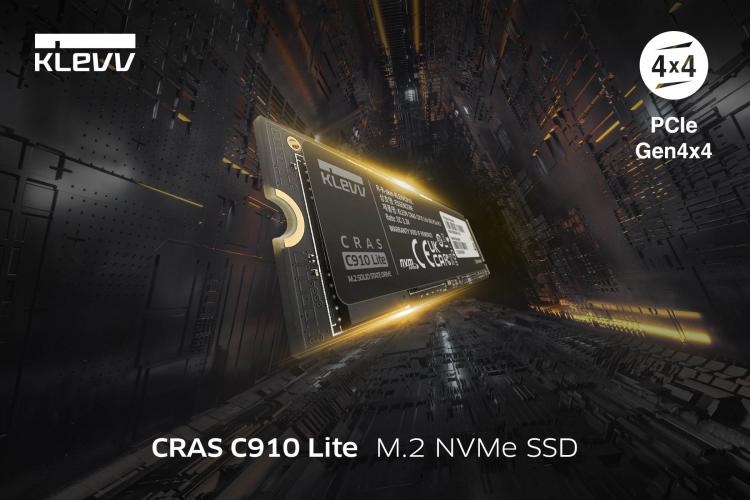 KLEVV is excited to unveil its latest M.2 Solid State Drive, the CRAS C910 Lite, packed with advanced specs for unparalleled performance. As a new addition to KLEVV's M.2 SSD lineup, the all-new CRAS C910 Lite utilizes PCI Express Gen4 x4 interface supported by NVMe 1.4, ensuring lightning-fast data transfer rates excellent for competitive gaming and content creation.
Available in multiple storage capacities, including 500GB, 1TB, 2TB, and 4TB, the CRAS C910 Lite features strictly selected 3D NAND Flash components, enabling impressive sequential read/write speeds of up to 5000MB/s and 4200MB/s and 4K Random Read/Write IOPS of up to 680,000/880,000. Weighing 7 grams with its revolutionary ultra-thin, single-sided SSD architecture, the KLEVV CRAS C910 Lite redefines compact performance, making it a perfect fit for a wide array of devices from nimble mini-PCs to sleek laptops.
The KLEVV CRAS C910 Lite SSD raises the bar with impressive speed, robust data security, and user-friendly software for efficient data management. Offering high performance and multiple storage options, this SSD is a versatile and reliable solution for all data-intensive tasks. A comprehensive 5-year warranty is also provided for users to rest assured that their systems are in good hands.
Data Security
The CRAS C910 Lite carries a powerful LDPC ECC engine for enhanced data durability. It protects data integrity with error handling, wear leveling, thermal throttling, and AES 256-bit encryption for added security. Additionally, the use of S.M.A.R.T. technology provides real-time updates on the SSD's health and performance.
Monitoring and Backup by Acronis
KLEVV includes a complimentary "Acronis True Image HD" software license with each CRAS C910 Lite SSD to bolster its value further. This software delivers extensive disk-image backup features, allowing users to restore or transfer data from their existing drive effortlessly.
Availability
The
KLEVV CRAS C910 Lite SSD
will be available from September 2023. KLEVV products can be found on Amazon US/UK/FR/ES/DE site and distributed by
Integral Memory
in the United Kingdom, France, Spain, and Germany.