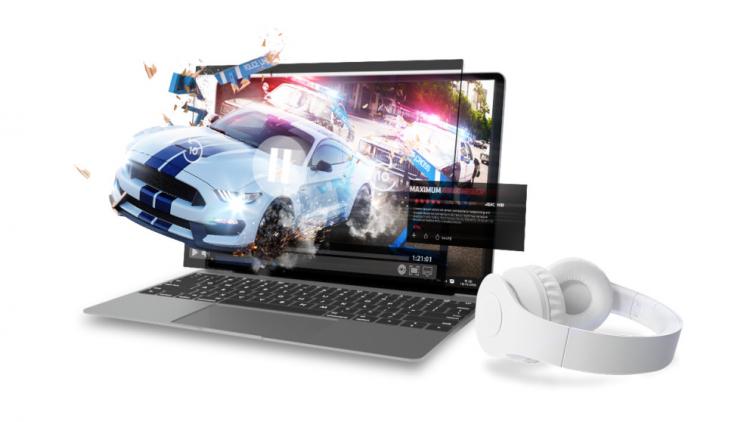 Just ahead of DiRT Rally 2.0 unlocking on Steam
AMD
come leaping through the breach with a new driver at the ready. And indeed, the
Radeon Software Adrenalin 2019 Edition 19.2.3
drivers don't stop at only offering optimised support for Codemasters' upcoming racing sim.
RSAE 2019 Edition 19.2.3 is also a driver package eagerly awaited by users of AMD Ryzen notebooks with Radeon Vega Graphics. Rather than rely on drivers distributed by notebook OEMs, a compatible and up to date option is now available direct from AMD's support pages, skipping the whims of the often unreliable middle-man. This is the first driver directly available from AMD that's suitable for these notebooks since 2017's 17.40 launch drivers, so you can see just how long some users have been waiting. An FAQ for affected users is available
here
.
As a result of the transition to a more modern driver, notebook users can expect up to 17% improved performance in a wide range of mainstream 'Esports' gaming titles versus the launch drivers. This change in policy was clearly not before time.
The drivers also fix a handful of lingering issues in the driver stack, among them fan profile adherence on Radeon VII GPUs and short video black-screens when FreeSync is enabled. For a full list see the release notes below.
Radeon product compatibility is significantly broadened with this release, and that's also reflected in the release notes. Note however that 64-bit versions of Windows 7 SP1 and 10 remain the only officially supported operating systems.
Download the Radeon Software Adrenalin Edition 19.2.3 drivers from AMD hereRelease Notes
Support For

AMD Ryzen™ Mobile Processors with Radeon™ Vega Graphics
- Up to 10% average performance gains with AMD Radeon™ Software Adrenalin 2019 Edition 19.2.3 vs. 17.40 launch drivers for AMD Ryzen™ Mobile Processors with Radeon™ Vega Graphics. RS-285
- Up to 17% average performance gains in eSports™ titles with AMD Radeon™ Software Adrenalin 2019 Edition 19.2.3 vs. 17.40 launch drivers for AMD Ryzen™ Mobile Processors with Radeon™ Vega Graphics. RS-286
Dirt Rally® 2
- Up to 3% performance gains with AMD Radeon™ Software Adrenalin 2019 Edition 19.2.3, on a Radeon™ RX Vega 64 in Dirt Rally 2. RS-287

Fixed Issues

- Battlefield™ V players may experience character outlines stuck on screen after being revived.
- Fan speeds may remain elevated for longer periods than expected when using Tuning Control Auto Overclock or manual fan curve in Radeon WattMan on AMD Radeon VII.
- ReLive wireless VR may experience an application crash or hang during extended periods of play.
- Zero RPM will correctly disable in Radeon WattMan on available system configurations when manual fan curve is enabled.
- A loss of video may be intermittently experienced when launching a fullscreen player application with Radeon FreeSync enabled.

Known Issues

- Mouse lag or system slowdown is observed for extended periods of time with two or more displays connected and one display switched off.
- Changes made in Radeon WattMan settings via Radeon Overlay may sometimes not save or take effect once Radeon Overlay is closed.
- Some Mobile or Hybrid Graphics system configurations may intermittently experience green flicker when moving the mouse over YouTube™ videos in Chrome web browser. A work around if this occurs is to disable hardware acceleration.
- Radeon WattMan settings changes may intermittently not apply on AMD Radeon VII.
- Performance metrics overlay and Radeon WattMan gauges may experience inaccurate fluctuating readings on AMD Radeon VII.

Important Notes

AMD Ryzen™ Mobile Processors with Radeon™ Vega Graphics must perform a driver upgrade to AMD Radeon Software Adrenalin 2019 Edition 19.2.3 to retain functionality of Radeon FreeSync on Radeon FreeSync enabled system configurations.
AMD Ryzen™ Mobile Processors with Radeon™ Vega Graphics FAQ for Radeon Software Adrenalin 2019 Edition can be found here.

Footnotes

Testing conducted by AMD Performance Labs as of February 19, 2019 on the AMD Ryzen 5 2500U comprising of12GB DDR4-2400 and Windows 10x64.PC manufacturers may vary configurations, yielding different results. Destiny 2, Shadow of War, Rise of the Tomb Raider, Civilization 6, and Witcher 3 when running Radeon™ Software 17.40 scored: 24,30,36,37,27,27 FPS respectively. Radeon™ Software Adrenalin 2019 edition 19.2.3 scored 27,32,37,43,30,31 respectively. Therefore, in the above comparison, Radeon™ Software Adrenalin 2019 Edition 19.2.3 shows 5%, 6%, 3%, 16%,14%, 9% greater performance. For an average of 10% performance gains across the titles. All scores are an average of 3 runs with the same settings. Performance may vary based on use of latest drivers. [RS-285]

Testing conducted by AMD Performance Labs as of February 19, 2019 on the AMD Ryzen 5 2500U comprising of12GB DDR4-2400 and Windows 10x64.PC manufacturers may vary configurations, yielding different results. Counter Strike: Global Offensive, Fortnite, Player Unknown's Battleground, and World of Warcraft when running Radeon™ Software Adrenalin 2019 Edition 19.2.3 scored: 52, 30, 26, 43 FPS respectively. Radeon™ Software 17.40 scored 43,25, 42, 38 respectively. Therefore, in the above comparison, Radeon™ Software Adrenalin 2019 Edition 19.2.3 shows 23%, 22%, 10%, 15% greater performance. For an average of 17% performance gains across the titles. All scores are an average of 3 runs with the same settings. Performance may vary based on use of latest drivers. [RS-286]

Testing conducted by AMD Performance Labs as of February 20th, 2019 on the 8GB Radeon™ RX Vega 64, using a test system comprising of Intel i7 7700K CPU (4.2 GHz), 16GB DDR4 memory, and Windows 10x64. PC manufacturers may vary configurations, yielding different results. Dirt Rally 2 (DX11) with the High preset at 1920x1080, when running Radeon™ Software Adrenalin 2019 Edition 19.2.2, the Radeon™ RX Vega 64 scored 122.5 FPS while Radeon™ Software Adrenalin 2019 Edition 19.2.3 scored 125.6 FPS. Radeon™ Software Adrenalin 2019 Edition 19.2.3 shows 3% greater performance. Performance may vary based on use of latest drivers. [RS-287]