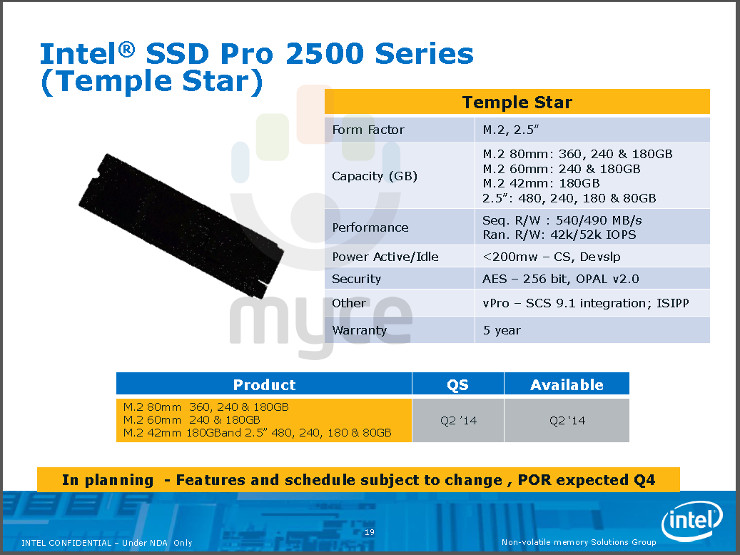 Computer storage specialist site
Myce.com
are today reporting on a series of leaked
Intel
slides that detail SSDs to be released through 2014. Included among the information is 'Temple Star', the codename for the Intel SSD Pro 2500-series which is due to debut in 2014 using the 2.5" and M.2 form factors, and the DC P3500 and P3700 drives.
Temple Star
AKA
Intel SSD Pro 2500
is still in the planning stages and it appears clear that Intel are targeting small client machines including tablets and thin laptops. Intel's Pro-series SSDs are typically intended for businesses as they offer AES-256 hardware encryption, lower power consumption and increases reliability compared to consumer-level drives.
Listed preliminary specs include a wide list of available capacities - from 80GB through to 480GB depending on form factor and M.2 spec length - and the now standard SATA III transfer speeds of ~560 MB/s Read & 490MB/s Write. They'll be no slouch in the random read/write department either, hitting 42k/52k IOPS respectively, and so should offer high performance for good cross-section of common tasks.
Bolstering Intel's PCI-Express SSD range are the SSD DC P-series drives, codenamed
Fultondale
and
Pleasantdale
. Very much intended for data centres and cloud storage, these drives will feature extremely high data bandwidths and IOPS well beyond the capability of SATA III variants thanks to a native PCI-E interface. Fultondale AKA the
SSD DC P3700
range will also feature 20nm High Endurange Technology MLC NAND, intended to bring SLC-levels of write durability without the cost implicit in that NAND type.
Interestingly the associated images of these drives indicate that a heatsink will be required to dissipate the ~25W of peak TDP. Low power and hence lower cooing requirements are crucial for data centre use, so the added heat these drives will bring could lead to come interesting head-scratching for their administrators.
Temple Star, Futondale and Pleasantdale SSDs are due for release in the second quarter of 2014 and will be sold alongside older Intel SSDs lines until 2015.
Source:
Myce