PRESS RELEASE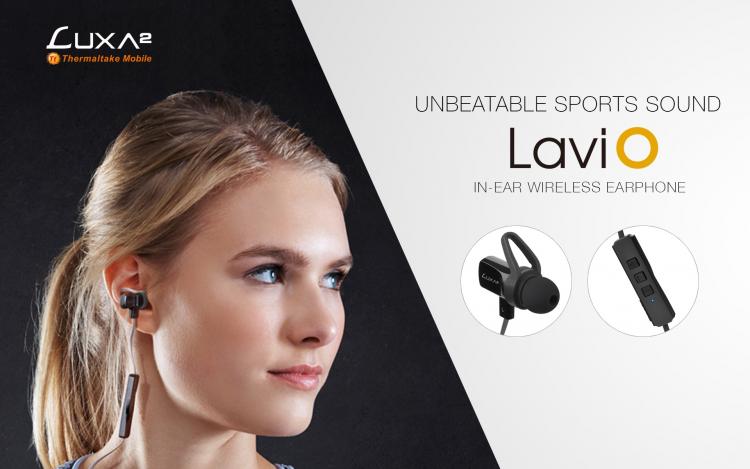 Taipei, Taiwan - October, 22, 2015 - Thermaltake Mobile - LUXA2
, a market leader in power, audio and holder solutions, is extremely excited to announce the first new sports addition to the Lavi audio series with the arrival of the
Lavi O in-ear Wireless Sports Earphone
. Designed for sporting enthusiasts that desire an enhanced workout performance, the Lavi O provides you with the ultimate wireless workout tool to take your training to the next level.
Whether you're focusing on a specific goal, cross-training or simply working out at the gym, the Lavi O In-ear Sports Wireless Earphone provides premium wireless sound to make the most out of your workout session. Ergonomically designed with an anti-drop earhook construction, the Lavi O provides long-lasting and secure comfort no matter how vigorous the workout, giving you uncompromised freedom during your session. Weighing in at just 16 grams and possessing a Grade A 80mAh lithium-polymer battery, the Lavi O is not only extremely light, but can provide up to 5-hours of quality playtime, requiring only 40 minutes to fully charge from empty.
Equipped with an inline remote controller with microphone that provides access to player controls, switching between music and calls is effortless. The inclusion of three interchangeable (S/M/L) earbuds, cord keeper and cable clip allows for easy customization in the setup of the Lavi O to each and every individuals specific requirements, and the extra addition of a carrying pouch adds portability and protection.
Optimize and enhance your workout with the Lavi O In-ear Sports Wireless Earphone!
Key features include:
- Latest Wireless Bluetooth 4.0 CSR technology
- 90% compatible with majority of sporting activities
- Ergonomic anti drop ear-hook design
- Long lasting playtime & fast charging
- Handy control interface with built-in mic
- Exceptional comfort and secure fit Universal fit (S/M/L)
- Easy pairing and easy use
- 1 year warranty
Lavi O In-ear Wireless Earphone suggested price : USD 39.99
Further information Lavi O In-ear Wireless Earphone is available online:
http://www.luxa2.com/product.aspx?s=152
For more information on where to buy the new Lavi O In-ear Wireless Earphone, please visit: USA AMAZON :
http://amzn.to/1LhGZy5
LUXA2 official website and community websites: