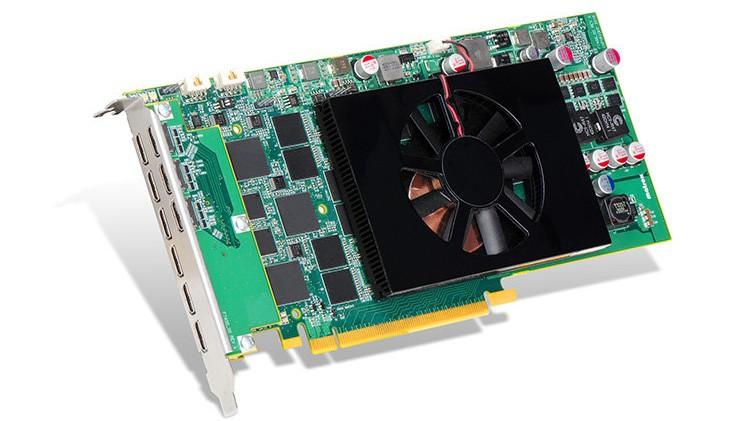 The MATROX C900
is a single-slot professional graphics card, designed for 3x3 or 9x1 video walls. Coming with 9 Mini-HDMI 1.4 display connectors, it really sets itself apart from the competition.
The maximum resolution of a single display is 1920x1080 at 60hz. so it can output at a maximum image resolution of 5760×3240 in 3×3 configuration or 17280×1080 in 9×1. But by adding another C900 to the system the software can display up to 18 displays. The MATROX C900 is also equipped with 4GB of graphics memory and has a TDP of 75W. This card also comes with an AMD GPU installed, but MATROX has not specified what model it is.
The C900 will be available next quarter. Matrox is planning to show it next month at IES 2016 for the first time.
Press Release Notes
Matrox Unveils World's First Single-Slot Graphics Card to Drive Nine 1920×1080 Displays for 3×3 Video Walls
Matrox C900 provides a stretched desktop across nine outputs making it ideal for digital signage, presentation and control room applications


MONTREAL — Feb. 3, 2016 — Matrox® Graphics Inc. today announced Matrox C900, the world's first single-slot, nine-output graphics card that supports nine 1920×1080 displays at 60Hz. The latest card in the popular Matrox C-Series™ line of multi-monitor graphics cards, C900 will be demonstrated for the first time at ISE 2016 (Amsterdam RAI, Feb. 9-12, stand 11-F48).

A special-purpose graphics card designed to power 3×3 and 9×1 video walls, Matrox C900's single-slot form factor and low power consumption at 75W offer digital signage and video wall vendors simpler integration and a lower cost of ownership. Its support for stretched desktop across all nine synchronized outputs lets users run any application full screen across a 3×3 video wall which makes the card ideal for signage installations in retail, corporate, entertainment and hospitality environments as well as control room video wall solutions in security, process control and transportation.

Matrox PowerDesk™ desktop management software for Windows® is included with C900 to give users a comprehensive set of tools, including bezel management and EDID management, to easily configure and manage their multi-display setups. Advanced APIs are available to developers and OEMs to quickly build custom interfaces and applications.

"Three-by-three configurations are the sweet spot for many digital signage installations and control room video walls," said Caroline Injoyan, business development manager, Matrox Graphics Inc. "Now with C900, for the first time, nine Full HD displays can be driven from a single-slot card and system integrators can easily offer a turnkey solution to power three-by-three video walls. They also benefit from the premium technical assistance, long product life cycles and reliability that Matrox is known for."

Key features of MATROX C900

Matrox C900 is a PCI Express® 3.0 x16 graphics card with 4GB of memory that supports nine displays at a maximum resolution of 1920×1080 per display or a total desktop resolution of 5760×3240 in a 3×3 display configuration. More displays can be supported by inserting two C900 cards or a C900 plus a Matrox C680 six-output board into a system to power 18- or 15-screen video walls. The board-to-board framelock feature ensures synchronization of all displays. C900 features nine mini-HDMI connectors, supports digital audio through HDMI and is DirectX® 12 and OpenGL® 4.4 compliant. It is compatible with Matrox Mura IPX™ Series 4K capture and IP encoder & decoder cards.

Availability

Matrox C900 will be available in Q2 2016.