MSI introduces the AERO ITX Series graphics cards based on the latest NVIDIA GeForce GTX 10 series. The MSI AERO ITX series graphics cards is a compact 2-PCIe slot card measuring of only up to 173mm in length and weighs a little more than half a kilogram. The AERO ITX Series is perfect for small form factor builds. Small as these card may seem, the MSI AERO ITX series offer performance relative to its larger counterpart. The MSI AERO ITX series are based on the powerful and VR-Ready GTX 1070 and GTX 1060 along with the GTX 1050 Ti and GTX 1050 graphics card.
The AERO ITX cards feature MSI's TORX Fan cooling on a super compact heat sink with 8mm superpipes and airflow control technology. The AERO ITX cards also feature the MSI ZERO FROZR Technology wherein the single TORX Fan stops spinning at low temperatures due to light loads.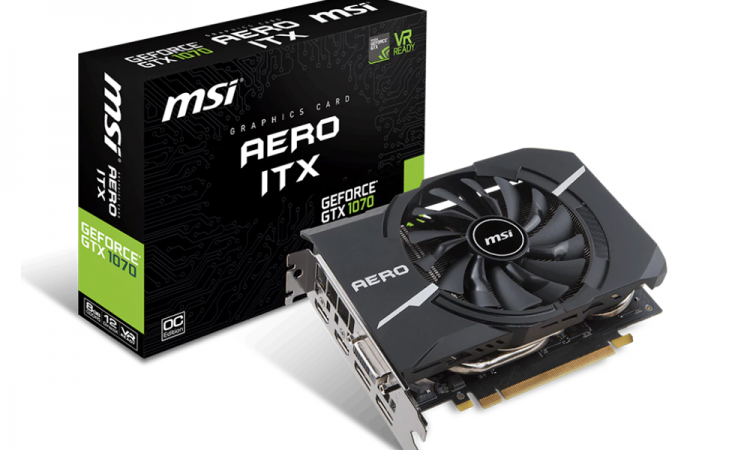 VR-Ready
To fully enjoy the impressive world of Virtual Reality, high-performance hardware is required. MSI GeForce® GTX 1060 and above graphics cards deliver perfect performance for a smooth VR experience. The MSI Gaming App now features a function to optimize PCs for smooth VR performance.
ITX Thermal Design
TORX Fan
- Dispersion fan blade: Steep curved blade accelerating the airflow.
- Traditional fan blade: Provides steady airflow to massive heat sink below.
Zero Frozr Stopping the fan in low-load situations, keeping a noise-free environment.
Airflow Control Improves cooling efficiency by using advanced aerodynamics to focus the airflow.
Super Pipe Improved dissipation by using thick 8mm heat pipe in optimized layout.
NVIDIA G-SYNC Ready
Synchronizes the display refresh to your GeForce GTX GPU for the fast, smooth gaming.
The new MSI AERO ITX models are expected to be available later this month, check with your local retailers for availability. Check out the
MSI AERO ITX Series
graphics card lineup at the MSI website.