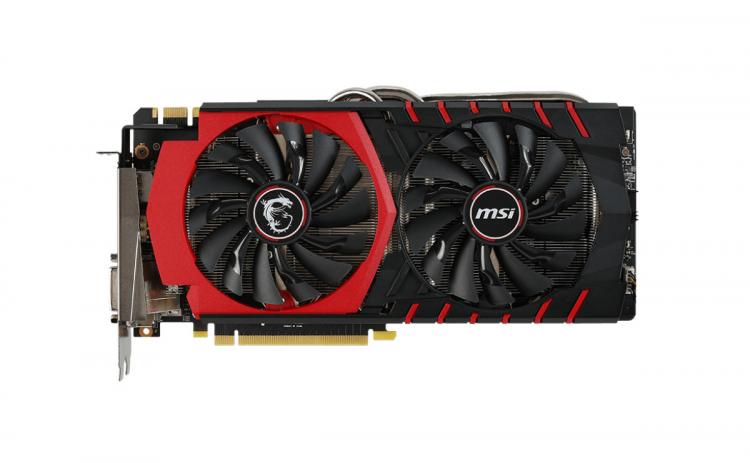 Not content with a full range of NVIDIA GeForce GTX 900-series cards within their GAMING brand PC component manufacturer
MSI
are now looking to release a variant SKU for each card, further increasing consumer options. These GAMING LE cards, short for 'Lite Edition', will feature lower GPU clocks than their standard GAMING versions but still better than stock performance levels.
Starting at the top is the
MSI GTX 980 Ti GAMING 6G LE
, based on NVIDIA's GTX 980 Ti with Maxwell-based GM200 GPU. In common with the standard GAMING 6G this model features three BIOS presets for clock levels, beginning at 1000MHz Base/ 1075MHz Boost for a so-called 'Silent Mode'. Unlike the GAMING 6G however the LE model's Gaming and OC mode are only one-bin (i.e. 13MHz) bumps over this, whereas the full-fat model clocks up to 1140 MHz (Gaming mode) and 1178 MHz (OC Mode) Base. The Gaming 6G LE also doesn't overclock the memory, sticking to 7GHz GDDR5 effective.
In a similar fashion
MSI's GTX 980 GAMING 4G LE
also includes three GPU frequency presets with only slightly bumps from the stock levels, rather than large leaps in Gaming and OC modes. Here the Silent mode is identical, and pegged at NVIDIA's stock mark of 1126MHz, but once again Gaming and OC modes are only one and two bins (13 and 26 MHz respectively) above this mark. That compares with the standard 980 GAMING 4G, which has presets 63 and 89 MHz over the stock 'Silent' mode. Both cards still have stock memory speeds.
The trend continues with the
MSI GTX 970 GAMING 4G LE
and
GTX 960 GAMING 4G LE
, both of which have the same 1/2-bin overclock for Gaming and OC modes. MSI also list a 2GB version of the GTX 960 with similar clock speeds, despite recent rumours that the 2GB GTX 960 specifically was being retired.
Clearly the new LE cards are designed for those quite happy with NVIDIA's stock speeds, but nonetheless they do all feature MSI's latest Twin Frozr cooler. The Twin Frozr V features dual 10cm MSI 'Torx' fans with independent control, only spinning up when the card isn't idle. In the past the Twin Frozr designs have been some of our favourites for GPUs in terms of both performance and noise, so it will be interesting to see if these 'LE' GPU models can be pushed higher in despite very modest stock speeds.
SOURCE:
via
Guru3d
, Pics and Specs from
MSI.com