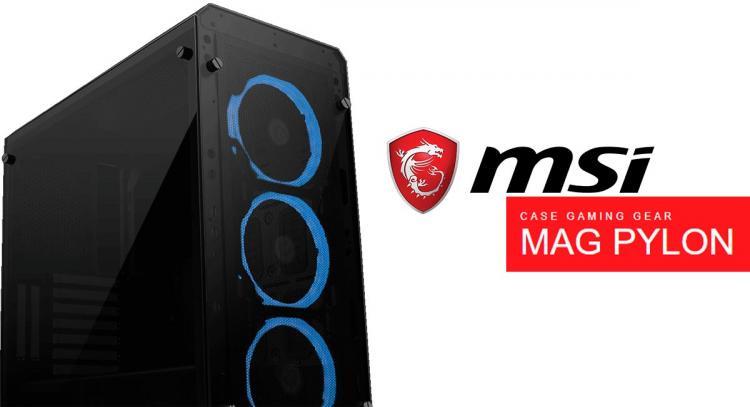 MSI introduces a new line of products, gaming desktop cases, starting with the MAG Pylon and MAG Bunker cases featuring tempered glass panels and RGB lighting with MSI Mystic Light Sync support. Both the MSI MAG Series gaming cases support up to an ATX motherboard form factor and as small as a mini-ITX motherboard as well. Both cases also support vertical graphics card installation coming with an additional vertical slot and expansion kit.
The MAG Pylon and MAG Bunker also sport 0.6mm SPCC constructed panels ensuring a solid and durable structure to house the high-performance gaming setups. The
MSI
MAG Pylon and MAG Bunker classify as mid-tower cases with a modest 45L volume. It also packs plenty of cable management options including four cable routing holes with rubber grommets and ten cable tie down points across the backside of the motherboard area.
MSI MAG Pylon
The MSI MAG Pylon chassis features three 4mm-thick and tinted tempered glass panels that offer an exquisite view of the interior and highlights RGB illumination. It comes bundled with three 120mm RGB cooling fans with MSI Mystic Light Sync support. It also comes with a magnetic fan filter on top of the chassis for easy maintenance along with the vertical
graphics card
supporting brackets.
MSI MAG Bunker
The MSI MAG Bunker is simply a budget-friendly version of the MAG Pylon featuring two 4mm-thick tinted tempered glass panels only and with only one 120mm cooling fan pre-installed giving builders the opportunity to choose their own cooling fans. It still sports the same cable management options and vertical graphics card mounting options like the MAG Pylon.
There is no information on pricing and availability for both the MSI MAG Pylon and MAG Bunker cases as of this writing.
Product Links:
MSI MAG Pylon Chassis
MSI MAG Bunker Chassis