Press Release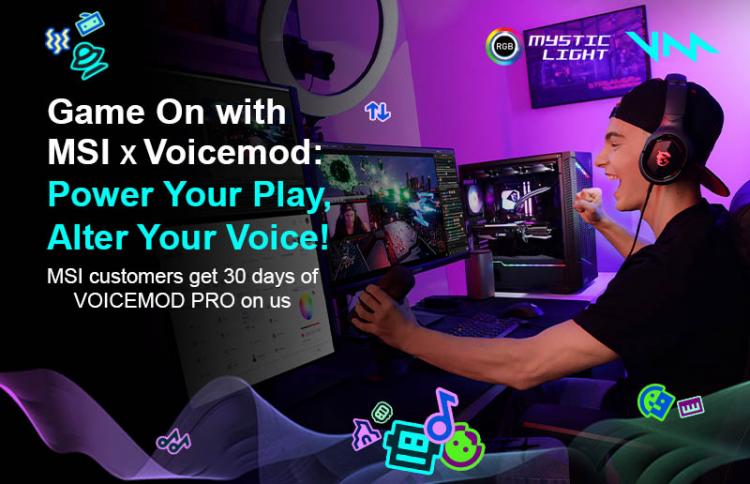 MSI announces partnership with Voicemod, adding a new dimension to streaming sessions and enhancing the user experience by integrating Voicemod's AI technology with MSI Mystic Light.MSI X Voicemod Collaboration
The partnership ties together MSI's Mystic Light and Voicemod's voice-changing technology, infusing streaming with fun and creativity. Streamers can now synchronize their RGB lighting to modify their voices and trigger sound effects in real time, transforming the way they interact and enjoy their streaming. Voicemod's AI technology transforms voices in real-time and with industry-leading low latency to enable users to converse as they would in real life – but be heard online with their chosen voice.
Introducing Voicemod Sync
Mystic Light will now feature an additional option – Voicemod Sync. This new feature allows the control of RGB lighting and Voicemod functionality directly using the MSI Center interface. Streamers can personalize their gaming experience even further using Voicemod Sync to synchronize their RGB lighting and Voicemod.
The integration allows streamers to build and customize gorgeous RGB Gaming PCs with Mystic Light-compatible hardware and peripherals while playing with lighting and voices within MSI Center to create a truly unique and entertaining gaming environment.
Benefits for Streamers and Gamers
MSI Mystic Light Sync
offers complete control over RGB lighting, including MSI motherboards, graphics cards, cases, monitors, desktops, peripherals, and any Mystic Light-compatible products. It boasts features like Ambient Link, where MSI collaborates with AAA game publishers to synchronize MSI Mystic Light products with in-game environments, extending games into RGB lighting for unmatched immersion.
This fun lighting experience is now further enhanced by Voicemod Sync!
Offering both human realistic and fantasy voice options, Voicemod lets users customize their voice by transforming the way they sound to become whoever - or whatever - they feel more comfortable being, making their online experience more immersive and inclusive. The soundboard feature allows streamers to play a variety of sound effects during their streams to further engage and entertain viewers. Its seamless integration with platforms like Discord, games boasting built-in voice chat, and professional streaming software like OBS brings an extra layer of excitement to both gaming and streaming experiences.
30 days Trial of Voicemod Pro
As part of this collaboration, MSI is offering a 30-day trial of Voicemod Pro with the purchase of any eligible MSI product. This exclusive offer now grants streamers and gamers access to the full potential of Voicemod, including professional-grade voice-changing effects through Voicelab. For 30 30-day trial of Voicemod Pro, please visit the
campaign page
.