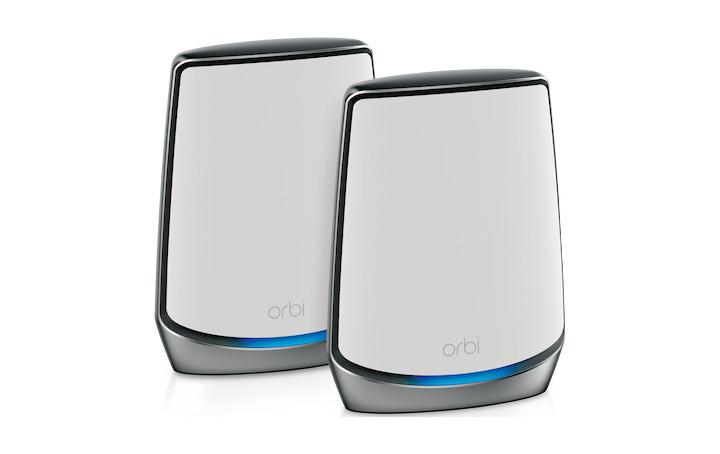 NETGEAR
, networking specialists and leading provider of mesh WiFi systems that power smart homes, are today returning to IFA Berlin and showcasing the
Orbi WiFi 6 Mesh System
, a solution that delivers a new standard for wireless networks in the home and small business environments.
Households now have a multitude of always-on and always-connected smart home devices, many of which are running high-bandwidth applications such as streamed video content connections across multiple screens. Pressures on these households are only set to increases as small footprint smart devices become more ubiquitous and the push into cloud gaming services looms. Similar to the difference experienced between driving on a congested four-lane road compared to that of a sixteen-lane motorway, the WiFi 6 standard provides more streams to increase traffic capacity, ensuring that the fastest high-speed WiFi connected devices are not stalled by the slower ones.
Orbi WiFi 6 uses NETGEAR's patented tri-band mesh technology with a patented dedicated backhaul to provide a smart home experience with seamless roaming. With 4x4 radios on both 2.4Ghz and 5Ghz fronthaul, as well as a 5Ghz backhaul, Orbi WiFi 6 is designed to cover any home with a broad array of connected devices. This latest generation WiFi technology is faster than ever before and is designed to satisfy the needs of a highly connected home for years to come, with four times increased capacity for connections as compared to a WiFi 5 (802.11ac) system.
The Orbi WiFi 6 Mesh System is a welcome addition to NETGEAR's already extensive WiFi 6 router portfolio as the pressure to add countless 'smart' wifi devices to home networks builds, each with their own unique data demands. However broadband capabilities offered by ISPs are also improving with the continual addition of new Gigabit and multi-Gigabit connections. Orbi WiFi 6 scales to provide up to multi-gigabit services through the use of a 2.5 Gbps WAN port or using link aggregation to combine two ports together.
Along with the enhanced networks speed and increased capacity, WiFi 6 also introduces efficiency and improved battery life for mobile devices.
Availability:
Orbi WiFi 6 Tri-band Mesh System (RBK852) will be available in October for a suggested retail price of £749 for the router and satellite system. More information is available
here
.