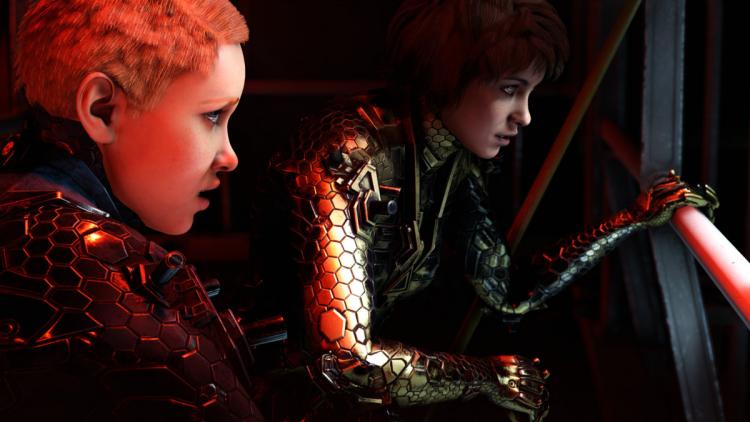 Coinciding with the launch of
NVIDIA's GeForce RTX 2080 SUPER
graphics cards is the release of a new GeForce driver update that both supports the new hardware and provides optimisations for a few upcoming titles. Available through
GeForce.com/drivers
and the GeForce Experience app is the
GeForce Game Ready 431.60 Driver
, a package which includes optimisations for the two upcoming Wolfenstein titles as well as Madden NFL 20.
Wolfenstein: Youngblood
is the latest instalment in the veteran PC FPS franchise and a direct follow-up to
The New Colossus
. In addition to supporting
Variable Rate Shading
from the outset, Youngblood will also incorporate elements of realtime ray tracing when using the Vulkan rendering API through NVIDIA's VKRay toolkit. The extent to which real-time raytracing is used in-game is as-yet undisclosed, but it will be the first major title leveraging the technology through the Vulkan API.
Joining
Youngblood
on July 26th will be Wolfenstein: Cyberpilot, a VR shooter set in the Wolfenstein universe. Optimisations for titles such as this are essential to maintain the high and stable framerates necessary for premium Virtual Reality gaming. It's notable that the minimum specifications for this game demand a GeForce GTX 1070 or equivalent, rather than the usual VR minimum of a GTX 970/1060.
Meanwhile, Early Access to Madden NFL 20 begins this week ahead of its worldwide launch on August 2nd. While sports simulators aren't necessarily perceived to be demanding of titles (and system requirements for this title haven't been released as yet) silky-smooth gameplay is still as important as ever. Plus, stability improvements from day one in any game is more than welcome.
These drivers also incorporate fixes to three issues previously affecting GeForce owners and identifies a handful of new flaws set to be addressed in an subsequent update.
The GeForce 431.60 Game Ready Drivers are available for 64-bit versions only of Windows 7 and 10, supporting GPUs back as far as the GTX 600-series (Kepler architecture) in addition to the trio of new RTX 20 SUPER-series models. Download them at
GeForce.com/drivers
or direct via the GeForce Experience desktop app.
Release Note Summary
What's New in Version 431.60 WHQL

Game Ready Drivers provide the best possible gaming experience for all major new releases, including Virtual Reality games. Prior to a new title launching, our driver team is working up until the last minute to ensure every performance tweak and bug fix is included for the best gameplay on day-1.

Game Ready

Provides the optimal gaming experience for Wolfenstein: Youngblood, Wolfenstein:Cyberpilot, and Madden NFL 20.

Gaming Technology

- Adds support for GeForce RTX 2080 SUPER GPUs.
- Adds support for new G-SYNC compatible monitors.

Application SLI Profiles

Added or updated the following SLI profiles:
• Madden NFL 20

Software Module Versions

• nView - 149.77
• HD Audio Driver - 1.3.38.16
• NVIDIA PhysX System Software - 9.19.0218
• GeForce Experience - 3.19.0.107
• CUDA - 10.1
• Standard NVIDIA Control Panel - 8.1.940.0
• DCH NVIDIA Control Panel - 8.1.954.0

Fixed Issues and Other Changes

Added support for the following GPU:
• GeForce RTX 2080 SUPER
Added security updates for driver components.
Added support for new G-SYNC compatible monitors.

Fixed Issues in this Release

- [SLI][GeForce GTX 1080][Notebook]: The display flickers when using SLI. [2622166]
- [World of Warcraft Battle for Azeroth]: Terrain and icons flicker randomly in the game. [2633205]
- HDR option is missing from the Windows Control Panel. [200534450]

Windows 10 Issues

- [NVIDIA Control Panel]: When the 3D Settings page->Vertical Sync setting is set to Adaptive Sync (half refresh rate), V-Sync works only at the native refresh rate after rebooting the system. [2543187]
- [Tom Clancy's The Division II]: The game may crash when played in DirectX 12 mode. [2587043/200406322]
- [Mortal Kombat 11]: Random white and green flickering occurs in the game.[2599980]
- Mouse cursor may not render correctly after exiting a game. [2645203]