In August of last year
NVIDIA
introduced the first GeForce RTX 20-series graphics, incorporating technologies which could finally unlock real-time hybrid raytracing and advanced rendering features made possible through the use of deep learning inferencing. Earlier this year the RTX 20-series was further broadened with the inclusion of the GeForce RTX 2060, a brand new entry-point into the NVIDIA RTX hardware ecosystem. Today that series undergoes its first mid-life refresh as the
GeForce RTX 20 SUPER-Series
, three new SKUs that each offer meaningful performance improvements without undermining support for the budding GeForce RTX videogame ecosystem.
Three new SKUs comprise the RTX 20 SUPER-series, each of which offer meaningful performance differentials from their vanilla variants but continue to leverage the award-winning 12nm Turing architecture of the originals. These aren't simple Base/Boost frequency bumps, they're true capability improvements thanks to improved hardware specifications that incorporate more shaders and faster or more capacious GDDR6 memory. In two instances - the RTX 2080 SUPER and RTX 2070 SUPER - they're in-line replacements for the base variants; the third slots in at a new price/performance sweet spot.
Reviews for Founders Edition models of the RTX 2070 SUPER and RTX 2060 SUPER will be available from July 2nd ahead of retail availability on July 9th. Partner variants should also go on sale on that date, and reviews of those models are expected at that time. RTX 2080 SUPER reviews will follow ahead of that card's launch on the 23rd. Staggered review embargo dates aren't uncommon for NVIDIA graphics hardware but it does means that their Founders Edition model will receive the majority of the limelight over the next week.
And so without further ado, lets properly introduce you to NVIDIA's RTX 20 SUPER Series.
GeForce RTX 2080 SUPER - US$699 / AUD$1209 / UK £669
Sitting at the top of the SUPER series (but still eclipsed by the RTX 20-series flagship) is the GeForce RTX 2080 SUPER. The card comes in at an MSRP $699, effectively usurping the position of the RTX 2080, and more comprehensively utilises the capabilities of its TU104 GPU.
Today's media blitz focuses primarily on the other RTX 20 SUPER-series cards and so key technical information for this card will be presented later. We do however know that the card incorporates 8GB of faster 15.5Gbps GDDR6 VRAM, up from 14Gbps on the RTX 2080. The TU104 GPU may also be fully utilised with all Shader Modules enabled, allowing it to leverage a total of 3072 CUDA Cores. Hardware improvements add up to ~10% higher synthetic performance metrics, although final in-game results will vary. The faster RAM in particular could have an unexpectedly high impact across the board but particularly at higher resolutions.
Throughout the range NVIDIA are offering Founder Edition models with the now-familiar dual-fan cooler design and heatspreader backplate. They've proven to be a popular thanks to their looks, performance and relatively low operating noise level for a reference card, but premium partner variants remain the gold standard.
According to NVIDIA, the RTX 2080 SUPER is faster than the TITAN Xp in representative workloads. That's a heck of a claim to fame, and puts AMD's Radeon VII under a considerable amount of pressure at a similar price point.
GeForce RTX 2070 SUPER - US$499 / AUD$860 / UK £475 inc. V.A.T.
By stepping down NVIDIA's lineup just a little we reach the GeForce RTX 2070 SUPER. Outwardly this card is another straightforward in-line replacement for its vanilla variant, but there's quite a lot going on when you look more closely (some of which NVIDIA are strangely reticent to discuss).
The RTX 2070 SUPER is promoted to utilises the TU104 rather than TU106 GPU at the heart of its vanilla series counterpart; quite understandable given the RTX 2070 fully utilised that lesser GPU.
A TU104 is equipped with up to six Graphics Processing Clusters, each with eight Shader Modules. An SM has 64 CUDA Cores alongside other components such as Tensor Cores and RT Cores, so in theory a TU104 could have up to a total of 3072 CUDA Cores enabled. The RTX 2070 SUPER has 2560 enabled (up from 2304 on the RTX 2070) representing a total of 40 SMs of the 64 available. Normally one would assume therefore that the RTX 2070 SUPER has five of the TU104's six GPCs unlocked.
Strangely however NVIDIA's technical specifications list the RTX 2070 SUPER as incorporating '5 or 6' GPCs, implying some variance between the configuration of particular RTX 2070 SUPER GPUs. We asked NVIDIA if this implied there would be multiple variants of the RTX 2070 SUPER (perhaps as different SKUs) and this was their response:
"The are no [SKU] variants, it is just a function of how we select the chips. We have done extensive game testing and there is no difference between 5 or 6 GPCs in the results."
Given the minor kerfuffle caused by the binning process of the RTX 20-series, it will be fascinating to see how this particular incongruity plays out.
Other improvements from the RTX 2070 include higher Base and Boost clocks and a greater number of texture units. Boost Clocks in particular will differ between the Founder's Edition and partner models due to differences in the power delivery infrastructure and cooler, so it would serve prospective owners well to hold off on preorders until real-world differences become apparent in reviews. Overall, NVIDIA expect the RTX 2070 SUPER to be up to 21% faster than the RTX 2070, with an average of 16% better FPS across a wide sample of titles.
Reviews of the RTX 2070 SUPER Founder's Edition go live today and will provide a more complete picture of its performance.
GeForce RTX 2060 SUPER - US$399 / AUD$690 / UK £379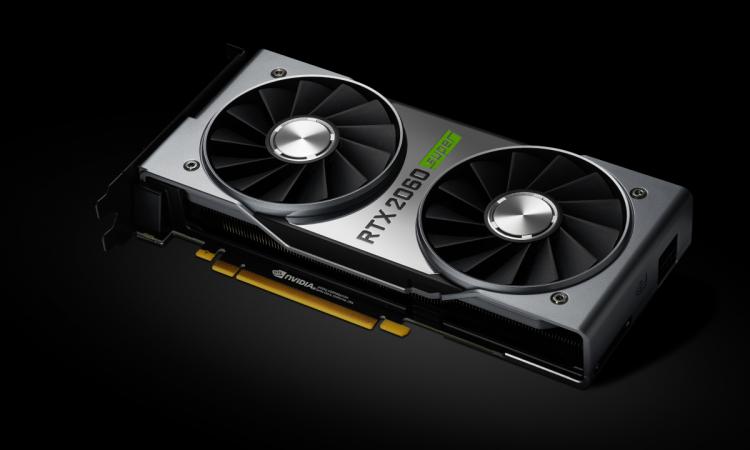 Sitting at a new price point for the RTX 20-series is the GeForce RTX 2060 SUPER, a $399 MSRP graphics card that bridges the price and performance gap between the RTX 2060 and 2070. Unlike the RTX 2080 & 2070 SUPER cards however it doesn't displace or make obsolete any particular model; instead it seems tailored to compete with the AMD Radeon RX 5700.
The TU106 once again returns but with more SMs unlocked compared to the RTX 2060. Just as significant is an increase to 8GB of GDDR6 memory which now operates over a 256-bit wide bus, helping the cards capabilities at higher resolutions and image quality settings. Base operating frequencies are higher - now up to 1470MHz - but in an interesting twist Boost Frequencies are a little lower at 1650MHz.
In combination these changes should see the card be far more accomplished at 1440p than its predecessor, and hence be a much more attractive upgrade path for GTX 970/1060 owners than the RTX 2060 turned out to be. If the Boost frequency are in fact relatively modest then it could give NVIDIA's AIC partners an opportunity to really flex their muscles and push the card to rival the RTX 2070.
Once again, reviews of Founders Edition models are going live today. NVIDIA's internal notes anticipate an average of 15% better performance than the RTX 2060 across a wide variety of games, but the scope of the changes give the impression that this may be somewhat conservative, particular in RTX-enabled titles.
Lineup Continuity at the top and bottom
It will come as no surprise that the GeForce RTX 2080 Ti remains the top dog of NVIDIA's RTX 20-series lineup. The card currently offers performance unrivalled in the consumer market that's only surpassed by the prosumer-level TITAN RTX. There is certainly scope for a GPU specced higher than the RTX 2080 Ti - perhaps with all SMs on the TU102 unlocked and/or the new faster GDDR6 15.5Gbps memory - but for now at least it sits untroubled on its throne.
Meanwhile, at the entry-point into the RTX ecosystem, the humble GeForce RTX 2060 continues its role as the most affordable SKU. Both specifications and MSRP are unchanged despite the addition of new cards in the product stack and AMD's coming GPU hardware launch. It does however squeeze the pricing of many partner RTX 2060 models which have been priced at a premium due to factory overclocks and more capable cooling.
Following this refresh we can expect both the RTX 2070 and 2080 to be gradually phased out in favour of the new models. Stock will become scarce, but it's possible that a few deals can be made as the manufactures attempt to clear their inventories (such as the recently announced ASUS Trade-Up Your Graphics program).
A SUPER New Game Bundle
From their retail availability qualifying purchases of a GeForce RTX 2060 SUPER, GeForce RTX 2070 SUPER, or GeForce RTX 2080 SUPER-based graphics cards or desktop PCs will include a free copy of two upcoming triple-A titles featuring GeForce RTX technology:
Control
and
Wolfenstein: Youngblood
. That's around $90 of added value, and will easily be enough to sway many who were on the fence about upgrading to RTX.
Studios are still gaining experience with NVIDIA RTX technologies, and as they do so techniques are being applied in a manner that's more subtle and refined.
Control
by Remedy is a prime example of this. It incorporates Ray-Traced Diffuse Global Illumination to augment their existing GI system, ray-traced reflections for a more immersive overall experience in key in-door environments, and ray-traced contact shadows for a more accurate effect than baked-in shadows offer. Control launches on August 27th.
Wolfenstein: Youngblood
continues where Wolfenstein II: The New Colossus left off, both in story terms and rendering technology. NVIDIA Adaptive Rendering returns to offer context-sensitive variable shading rates across a frame based on object/texture complexity, improving frame rates without dropping image quality. Although an advanced technology, the whole of NVIDIA's Turing GPU family (including the GTX 16-series) is compatible with this feature. Furthermore Wolfenstein: Youngblood utilises the
NVIDIA VKRay
extension for Vulkan, although it's currently not clear exactly
how
the technology is being used to bring real-time hybrid raytracing to the game. When Wolfenstein: Youngblood is launched on July 26th it will be the first Machine Games title to support NVIDIA RTX ray-tracing.
The Competition
On July 7th AMD's Radeon RX 5700-series will be available, a launch which this announcement is clearly designed to preempt. Promotional material for the RX 5700 and RX 5700 XT heavily emphasised comparisons with NVIDIA's RTX 2060 and RTX 2070 respectively, but the RTX 2070's effective EOL status alongside new SUPER SKUs add a huge amount of uncertainty. The assertive pricing of the RTX 2070 SUPER in particular is a threat to the flagship 5700 XT, but it's not clear whether AMD have any room to manoeuvre. They'll instead be hoping that the platform exclusivity of PCIe 4.0 and novel new AMD-exclusive features will sway consumer their way.
While NVIDIA are competing with AMD on the graphics front, they clearly want to take advantage of AMD's Zen 2 CPU and motherboard platform launch window. As the first major platform technology update in years on the desktop, Ryzen 3000 looks set to trigger a wave of upgrades in both the premade systems and DIY space, and the Green Team want a piece of that action.
That said, there's often a wealth of difference between pre-launch marketing and robust reviews. We'll have a far clearer picture on Sunday July 7th, AMD's big day.
Summing Up
NVIDIA's SUPER series GPUs is a refresh that will introduce a far more aggressive price/performance profile into the RTX 20-series, particularly in the <$500 segment. While a dearth of RTX-enabled games and no transformative performance improvements on launch (RTX 2080 Ti aside) dissuaded many from transitioning to the RTX 20-series over the last year, this new aggressive mid-range is well positioned to scoop up consumers investing in a wider desktop platform upgrade this summer.
NVIDIA RTX 20-series Lineup, Summer 2019
GeForce RTX 2080 Ti - US$999 MSRP - Currently Available

GeForce RTX 2080 SUPER - US$699 / UK £669 / AUD$1209 - Available July 23rd

GeForce RTX 2070 SUPER - US$499 / UK £475 / AUD$860 - Available July 9th (FE & Partner)

GeForce RTX 2060 SUPER - US$399 / UK £379 / AUD$690 - Available July 9th (FE & Partner)