PRESS RELEASE
NVIDIA
today reported record revenue for the first quarter ended April 29, 2018, of $3.21 billion, up 66 percent from $1.94 billion a year earlier, and up 10 percent from $2.91 billion in the previous quarter.
GAAP earnings per diluted share for the quarter were a record $1.98, up 151 percent from $0.79 a year ago and up 11 percent from $1.78 in the previous quarter. Non-GAAP earnings per diluted share were $2.05, also a record, up 141 percent from $0.85 a year earlier and up 19 percent from $1.72 in the previous quarter.
"We had a strong quarter with growth across every platform," said Jensen Huang, founder and chief executive officer of NVIDIA. "Our datacenter business achieved another record and gaming remained strong.
"At the heart of our opportunity is the incredible growth of computing demand of AI, just as traditional computing has slowed. The GPU computing approach we have pioneered is ideal for filling this vacuum. And our invention of the Tensor Core GPU has further enhanced our strong position to power the AI era," he said.
Capital Return
During the first quarter of fiscal 2019, NVIDIA returned $746 million to shareholders through a combination of $655 million in share repurchases and $91 million in quarterly cash dividends.
For fiscal 2019, NVIDIA intends to return $1.25 billion to shareholders through ongoing quarterly cash dividends and share repurchases.
NVIDIA will pay its next quarterly cash dividend of $0.15 per share on June 15, 2018, to all shareholders of record on May 24, 2018.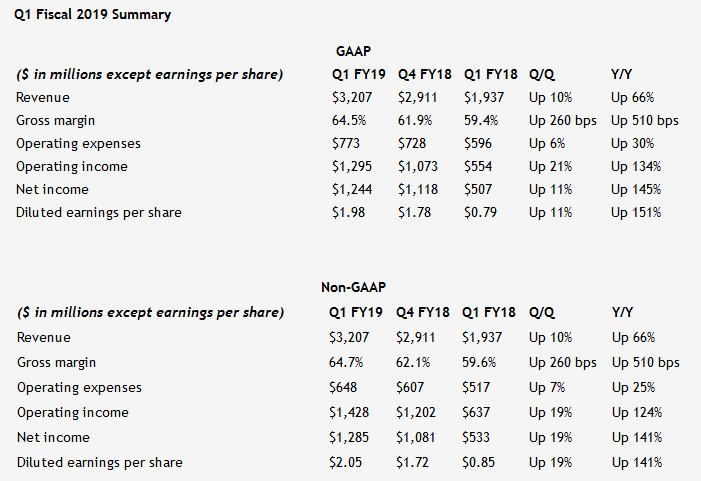 NVIDIA's outlook for the second quarter of fiscal 2019 is as follows:
Revenue is expected to be $3.10 billion, plus or minus two percent.
GAAP and non-GAAP gross margins are expected to be 63.3 percent and 63.5 percent, respectively, plus or minus 50 basis points.
GAAP and non-GAAP operating expenses are expected to be approximately $810 million and $685 million, respectively.
GAAP and non-GAAP other income and expense are both expected to be income of approximately $15 million.
GAAP and non-GAAP tax rates are both expected to be 11.0 percent, plus or minus one percent, excluding any discrete items. GAAP discrete items include excess tax benefits or deficiencies related to stock-based compensation, which are expected to generate variability on a quarter by quarter basis.
First Quarter Fiscal 2019 Highlights
During the first quarter, NVIDIA achieved progress in these areas:
Gaming

- Gaming revenue grew 68 percent from a year earlier to $1.72 billion.
- Announced NVIDIA RTX™, a groundbreaking computer graphics technology that produces movie-quality images in real time.

Datacenter

- Datacenter revenue grew 71 percent from a year earlier to a record $701 million.
- Unveiled at the annual GPU Technology Conference, in San Jose, with nearly 8,500 registered attendees, advances to its deep learning computing platform – including NVIDIA® Tesla® V100 GPUs with 32GB memory, NVIDIA NVSwitch™ GPU interconnect fabric and NVIDIA DGX-2™, the first server with two petaflops of computational power.
- Announced TensorRT 4™, the latest version of the TensorRT AI inference accelerator software, expanding its reach in the inference market by accelerating deep learning across a much broader range of applications.
- Announced GPU acceleration for Kubernetes to facilitate enterprise inference deployment on multi-cloud GPU clusters.

Professional Visualization

- Professional Visualization revenue grew 22 percent from a year earlier to $251 million.
- Announced the Quadro® GV100 GPU with RTX technology, making real-time ray tracing possible on professional design and content creation applications.

Automotive

- Automotive revenue grew 4 percent from a year earlier to a record $145 million.
- Introduced the NVIDIA DRIVE Constellation™ server with DRIVE Sim™ software, a complete system to safely test drive autonomous vehicles over billions of miles in virtual reality by leveraging NVIDIA GPUs and NVIDIA DRIVE Pegasus™.

New Platforms

- Introduced Project Clara, a medical imaging supercomputer, to revolutionize medical imaging.
- Announced the Isaac software development kit for robotics, offering a collection of libraries, drivers, APIs and other tools for researchers, developers and startups.
- Announced that Arm will integrate the open-source NVIDIA Deep Learning Accelerator to bring AI inference to mobile, consumer electronics and Internet of Things devices.
SOURCE
:
NVIDIA.com