Open Benchtable is now available in silver, red and black colours. Sold simply as the
Open Benchtable Edition
, the new batch of silver, red and black benchtables will feature the same lightweight, portable and fully integrated benchtable design with each model sporting an Open Benchtable Edition engraving. The upcoming batch will include a limited quantity of red and black Open Benchtables as a way to test the waters and assess the reaction of users. Head on to the
forum thread at hwbot.org
and let your voice be heard about the new colours.
Custom Traveler Sleeve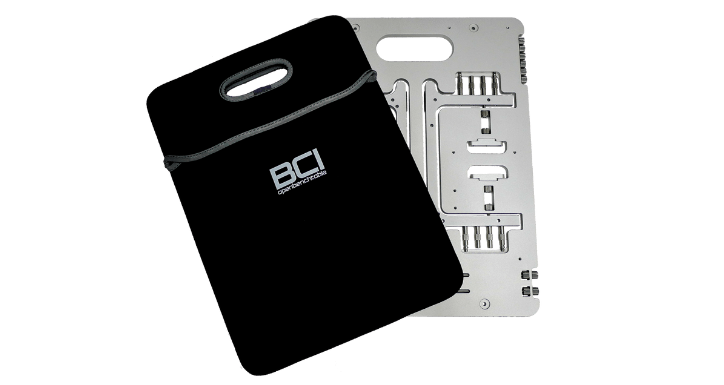 Each Open Benchtable Edition product also ships with a custom traveler sleeve - ensuring it remains undamaged regardless of where your travels may take you. The Open Benchtable Edition is available directly from their
website
today. The original silver version retails for $159 USD (excluding shipping), while red and black versions of the Open Benchtable will cost $199 USD (shipping included). Prices include the traveler sleeve.
Open Benchtable Edition Specifications
Motherboard compatibility: XL-ATX, E-ATX, ATX, Micro ATX, Mini ATX, Mini ITX
Motherboard standoffs height: 25 mm
Rubber feet: Yes
Compatibility with fans or radiators (via brackets): 240 mm, 140 mm, 120 mm, 92 mm, 80 mm
Storage drive support: Yes (up to 2x drives) – 2.5″ and 3.5″
PSU support: Yes
PSU format: Supports ATX 12V / BTX, ATX large and ATX-EPS
PSU weight: Maximum 10 kg
Load capacity: 25 kg table / 5kg spread on two brackets
Material – table: 100% AL5052 Aluminum (heavy duty)
Table finish: Sandblasted 80 grain, "white matt" anodizing
Material – screws: 100% SS304 Steel

Inventory
Manual: x1
M3 thumbcrews: x14
6#32 thumbcrews: x6
Standoffs: x8
Pushpin standoffs: x8
PCIe thumbscrews: x4
AiO / Fan brackets: x4
Traveler protection sleeve: x1 (Community edition only)