PRESS RELEASE
OCUK 8Pack Supernova
Overclockers UK exclusive: Ultra High End 8Pack SystemsNewcastle-under-Lyme, Overclockers UK
have released a new ultra high end range of system, designed and built by the UK's number One overclocker,
Ian Parry AKA 8Pack
. Constructed from the ground up to provide the ultimate overclocked premium system package.
Today Overclockers UK have announced the ultra high end
8Pack
systems, designed, built and created by the UK's number one overclocker,
Ian " 8Pack" Parry
. The construction of an 8Pack PC is a long and arduous process resulting in the production of a truly bespoke extreme performance PC. The combination of premium hand selected components and years of world class experience allows 8Pack to create a machine of monumental standards. These systems are second to none, ultra high performance, truly bespoke and unlike anything else seen in the system integration market before. Tailored for the extreme consumer, who requires the very ultimate in performance technology combined with a unique craftsmanship only found in the finest of overclockers.
OCUK 8Pack Polaris
8Pack only uses the
finest handpicked components
; literally using a process of elimination over hundred of CPUs to find the absolute best overclocking chip for ultimate performance. With
speed and stability guaranteed
from the UK's number one overclocker, Overclockers UK is offering a system of unparallel performance, unlike anything ever seen before. Truly exclusive as every single 8 Pack system is built, tested, overclocked and benchmarked every step of the way by 8Pack himself to ensure the pinnacle of quality is maintained to Overclockers UK's militantly high standards.
Overclockers UK has a trio of 8Pack Edition Systems available upon launch; the
Supernova
,
Polaris
and
Hypercube
. All three have under gone the fully extensive 8Pack treatment and are utterly unique from one another. The Supernova system is the pinacle in modern computing, delivering performance on a supercomputer level. The Polaris system offers elite gaming performance and finally the Hypercube being a true pocket rocket with it's smaller size and near unlimited performance credentials.
All 8Packs systems are delivered by a specialised two man courier team and are home installed, continuing the pure elite theme all throughout. Stylised with bespoke 8Pack branding, 8Pack Welcome pack and a
24 month warranty
managed by 8Pack himself.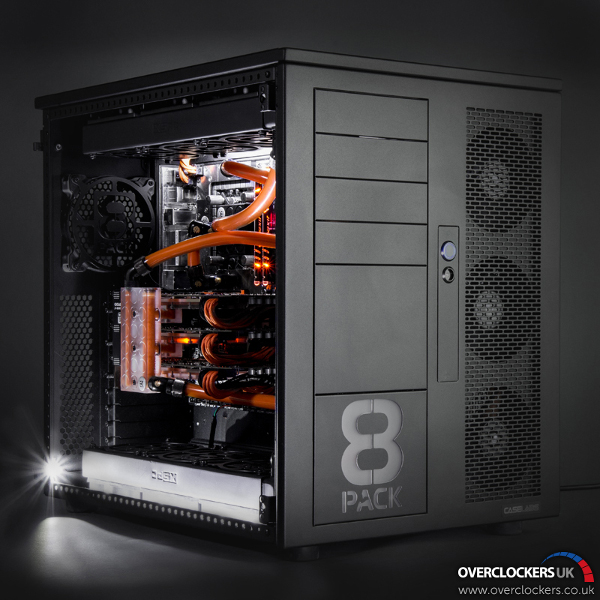 OCUK 8Pack Hypercube
Part of the 8Pack experience isn't just the system, it's the aftercare which puts you in direct contact with 8Pack for any questions or queries.
A team will setup and make sure the computer is ready for the customer directly in their home, being delivered in a heavy duty flight case
. Each 8Pack system comes with a certificate of authenticity signed by 8Pack will all the benchmarks ran along with its own unique serial plaque.
Click here to view the range of systems:
www.8pack.co.uk