Palit introduces a new product line and enters the SSD market with their new
UVS Series
and
GFS Series
solid-state drives. Palit addresses the demand of gamers today for a faster boot drives with the use of SSDs. By using the new Palit drives for installing your operating system, applications and games, your gaming PC will significantly improve its performance compared to using a hard drive. Both the new Palit SSD drives support TRIM technology along with LDPC ECC correction. Check out the two Palit SSD Series below.
Palit UVS Series SSD
The Palit UVS series SSD is a SATA III interface in a standard 2.5 inch form factor. The drive provides fast read speeds that can effectively shorten boot time and boost application launch speed, giving it an enormous advantage over traditional HDD. The Palit UVS SSD has a wide range of capacities, fast read/write performance and low energy consumption, making it the ideal storage solution to satisfy every need.
Key Features
Controller: Phison S3111-S11
NAND Flash Memory: 3D TLC
DRAM Cache Memory: 32MB
Max Sequential Read: 525 MB/s
Max Sequential Write: 465 MB/s
Warranty: 3 years
Palit GFS Series SSD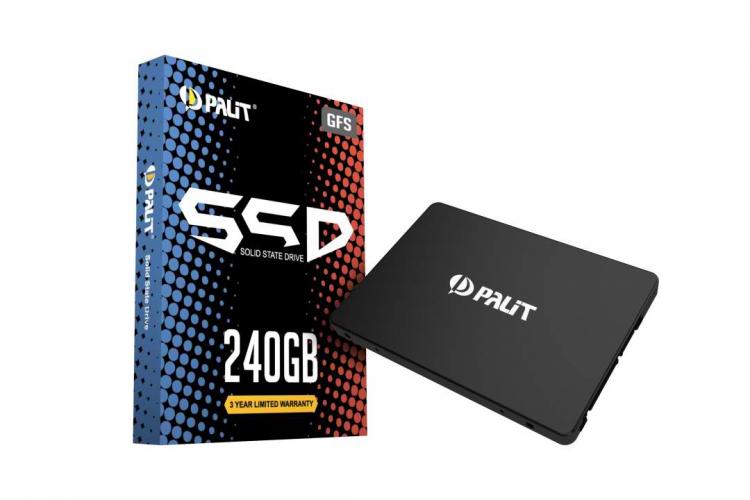 The Palit GFS series SSD uses SATA III interface and is designed for gaming. The Palit GFS series is specially made with high quality MLC flash memory dies to provide exceptional, world-leading read/write speeds. Its purpose is to be the perfect gaming gear, giving gamers the ultimate experience.
Key Features
Controller: Phison S3111-S11
NAND Flash Memory: 3D MLC
DRAM Cache Memory: 32MB
Max Sequential Read: 560 MB/s
Max Sequential Write: 480 MB/s
Warranty: 3 years