Phanteks introduces new liquid cooling products under the Glacier series which includes fittings and water blocks for both processor and graphics cards. All the new liquid cooling products are designed to complement the Phanteks cases and for users to have a complete case and cooling setup using Phanteks products.
Phanteks Glacier Series Fittings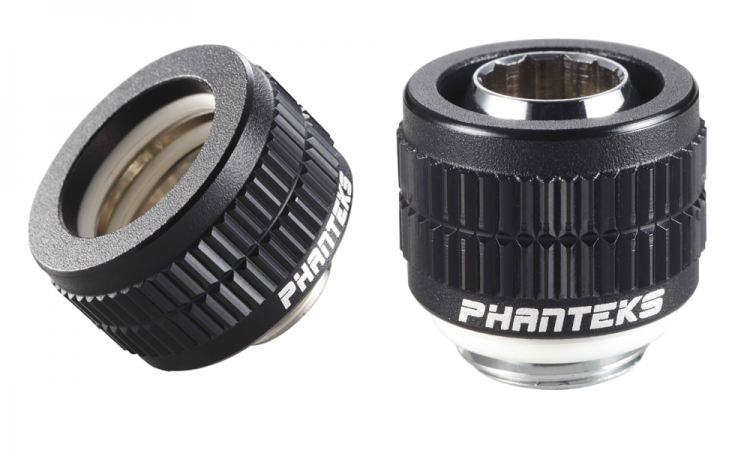 The new Glacier series fittings include those for hard tubing and soft tubing. The fittings include the commonly sizes for both hard tubing and soft tubing setups. The fittings are available in two colors – satin black and mirror chrome finish. The Phanteks Glacier Fittings are CNC-machined from solid brass and are designed for high flow and extreme cooling performance. The fittings feature VITON sealing technology used in Automotive and Aerospace Industries which guarantees reliability and longevity. See the Glacier series fitting lineup below.
Phanteks Glacier C350i CPU Water Block
The Phanteks Glacier series C350i CPU water block is currently for Intel LGA 2011-3/ LGA 115X platforms only. Like the fittings, it is offered in two colors – black satin and mirror chrome finish. The Glacier C350i CPU block from Phanteks delivers extreme cooling performance to keep your CPU running cool and stable. It is made from premium materials with 0.4mm high density fins for the best overclocking performance. VITON sealing from the Automotive and Aerospace Industries ensure the best reliability and longevity. The Phanteks C350i CPU block is compatible with Phanteks RGB cases and is compatible with the MSI Mystic Light and ASUS Aura Sync for the water block's lighting can be sync with your MSI or ASUS setup's RGB lighting.
The Phanteks C350i CPU block features integrated cooling fins made from a unibody copper base design with enlarged copper base for extreme cooling performance. High density fins with 0.4mm wide gaps and extra tall fins at 5mm boosts cooling performance significantly compared to typical fin designs. Phanteks includes their own PH-NDC thermal compound with nano diamond-like particles. The water block also features the VITON rubber sealing technology that guarantees durability and a leak-free setup. See the Phanteks C350i CPU block specifications below.
The Phanteks Glacier C350i CPU block (PH-C350I_X) has an MSRP of $79.99
Phanteks Glacier Series G1080 GPU Blocks
To complete the Phanteks Glacier series, the series also included full-cover waterblocks for the GeForce GTX 1070 and GTX 1080 graphics cards from the ASUS Strix series, MSI Gaming series, EVGA FTW series and Gigabyte G1 series. The waterblock preserves its compatibility with the original back plate as well as the RGB lighting function of the graphics card. The water blocks also features the VITON rubber sealing technology.