NVIDIA's GeForce RTX 2070, 2080 and 2080 Ti were announced just before GamesCom last week, and will be released at the end of September. Reference designs of these new GPUs are equipped with a re-engineered air cooler, but there will be many early adopters who will be salivating at the prospect of water-cooling their brand new premium GPU. Phanteks have heard their wishes, and announced that GeForce RTX-compatible full-cover Glacier waterblock designs will be launched at the end of September.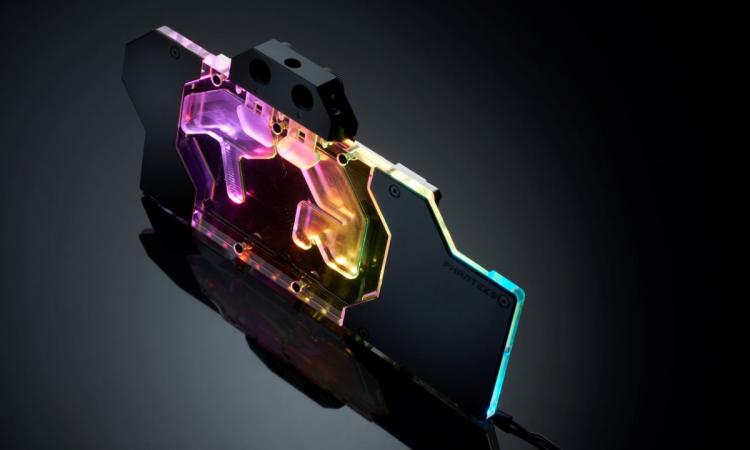 This is a remarkably quick turn-around time for the design and testing of a new waterblock. As far as we're aware the PCB layout of GeForce RTX GPUs differs considerably from previous series layouts, so a simple tweak to an existing design might not have been possible. If so, hats off to Phantek's design division for getting things ready with such speed.
The new Glacier G2080 and G2080Ti waterblocks will support founders editions of the GeForce RTX 2080 and RTX 2080 Ti respectively. Available with two colour options - Black or Chrome, they're also decked out in RGB LEDs. This lighting is also compatible with MSI's Mystic Light Sync and ASUS' AURA Sync lighting systems for configuration and synchronised effects.
Neither pricing guidance nor exact launch date have been revealed thus far, but they should be known around the launch of the cards themselves. Each waterblock will also be covered by a 2 year limited warranty. More information, including detailed technical specifications, are available at
Phanteks.com
.
Phanteks join Alphacool in offering a waterblock for NVIDIA's new GeForce range. Earlier this week the the latter
unveiled their Eisblock GPX-N GeForce RTX 2080TI Waterblock
, and appear to be catering to the flagship RTX model only for now.