PRESS RELEASE
Rotterdam, The Netherlands, November 13th, 2015 -
Phanteks
' Enthoo Evolv ATX has gained popularity in the watercooling community with it's innovative design and expansion flexibilities. Today, Phanteks is proud to announce the availability of a new color addition to the
Enthoo Evolv ATX
, the
Galaxy Silver
.
Like the EVOLV, the EVOLV ATX retains the full 3mm thick aluminum outer panels with the quick release system. The EVOLV ATX features a 4 color changeable power LED. With the EVOLV series ranging from mini-ITX to micro ATX, the EVOLV ATX will feature a large interior to support full ATX.
A innovative top radiator bracket to allow easy installation of the radiator and/or fans. The EVOLV ATX now comes with the all new HDD mounting system and includes 3x modular HDD bracket (PH-HDDKT_02). The EVOLV ATX is designed with watercooling in mind. Multiple reservoir and pump mounting locations, as well as storage capacity, the Enthoo EVOLV ATX will satisfy any pc builder looking for a design that doesn't sacrifice features.
"Features such as being very versatile, having a spacious and clean interior and of course making it very easy to build watercooling systems is what the Enthoo Series is all about."
- Boon Tuoh Khor
Features and Funtionality
(Enthoo Evolv ATX}
Features:

Enthoo Evolv ATX includes 2 x 140mm fans in front and 1 x 140mm fan in the rear. Ability to upgrade to additional fans is possible. All fans included are Phanteks' new redesigned and better performing SP series fans.

Appearance:

-Aluminum body (3mm thick)
Clean interior - Hidden PSU and HDD's
Power LED - Changeable to 4 different colors

Cooling:

- Optimal airflow - Direct airflow to CPU / GPU
- Comes with 3 Phanteks premium fans
2x PH-F140SP in front (140mm)
1x PH-F140SP in rear (140mm)
-Phanteks' PWM hub included
- 3 different installation areas for radiators
(120mm or 140mm form factor).
- Reservoir mounting locations
- Pump Bracket with vibration dampers

Functionality:

- 2x Drop-N-Lock SSD brackets included
- 3x Modular HDD Brackets
- Removable HDD cage for installation of long PSU's (>180mm) / waterpump
- Equiped with removable dustfilters (1x front, 1x bottom, top integrated)
- Clean cable management using Phanteks' preinstalled Hoop-N-Loop cable ties
- Quick release panels for easy acces to fans and dustfilters
- Toolless sidepanel with swing door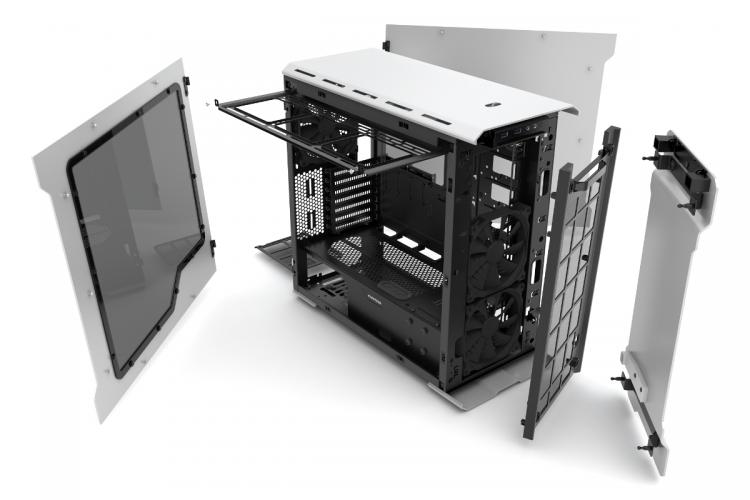 WARRANTY
5 Years Limited Warranty
PRICING AND AVAILABILITY
Available at most local retailers in November, 2015. The recommended retail price is €179,90 / £139.99 (VAT Included).