Intel unveiled their Rocket Lake-S range of desktop CPUs at CES last week, but were silent on some pretty elementary details including the range of SKUs, pricing and official launch date. Nonetheless the industry as a whole continues to be as leaky as a sieve; case in point: a Dutch IT component retailer has posted a full list of 11th Gen Core 'Rocket Lake-S' CPUs and their preliminary pricing, much to Intel's chagrin no doubt.
TechPowerUp
grabbed the price listings before they were taken down and they make for interesting reading.
At the top of the stack is the Core i9-11900K, the flagship SKU already announced by Intel. It features 8 cores and 16 threads and is clocked at up to 5.3 GHz, matching the peak frequency of the Core i9-10900K but with two fewer cores. It slides in at €500 (approx $620), which is around 10% lower than the i9-10900K; cheaper on a per-unit basis, but more expensive on a per-core basis. It's a similar story for the rest of the 11900-series.
A step below these chips are the Core i7-11700K-series. These unlocked chips, which one imagines will be the bread and butter of Intel-powered high end gaming systems, start at €353 ($427) and are 11-14% more expensive than their 10th generation counterpart.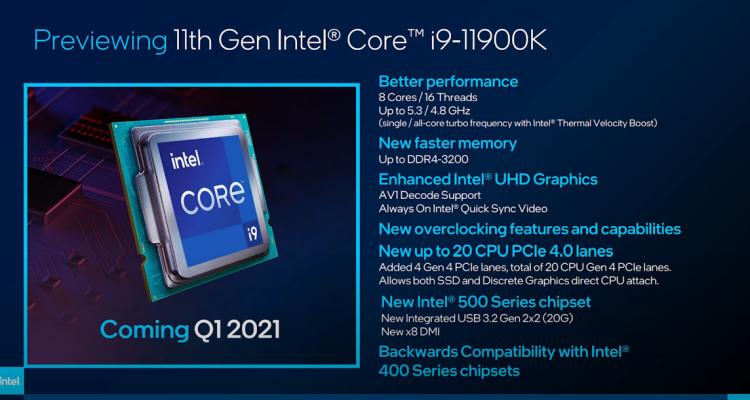 Price increases are a little more modest as you descend the product stack, varying within 2 and 7%, but they're price increases all the same.
Intel are clearly depending on their much-publicised 'up to 19%' IPC increase to justify the higher prices, and are also taking advantage of AMD's own price hike as they transitioned to the Ryzen 5000-series. Intel's i7-11700K will be going head-to-head with the Ryzen 7 5800X, and the number on the ticket is clearly a reflection of that match-up.
Full comparative pricing is listed at the TPU article. Note that this is preliminary and subject to change even before you consider the impact of the stock shortages that have plagued PC components in recent times.
SOURCE:
TechPowerUp
,
2compute.net