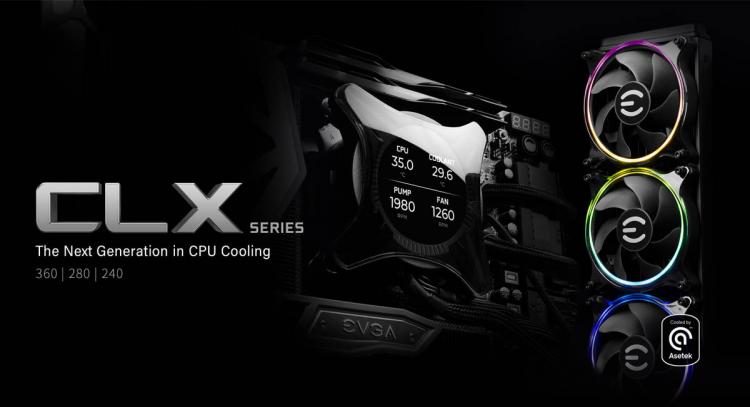 EVGA may have exited the GPU market and will no longer be carrying the next-generation NVIDIA GEFORCE products but the brands plans to keep up with the rest of their line-up. Today, EVGA introduces the all-new EVGA CLX Series – the sequel to the award-winning EVGA CLC all-in-one liquid CPU coolers. The new EVGA CLX Series features the refreshed Asetek 7th generation water pump and a fully customizable 480x480 pixel LCD display on the water block. The EVGA CLX Series also features the new EVGA-designed 120mm ARGB fans. The EVGA CLX Series is available in three models based on radiator size which includes 240mm, 280mm, and 360mm.7th Generation Asetek Cooling Technology Features
- Extreme Temperature Testing to ensure product robustness
- Helium Integrity Testing to ensure each individual cooler is virtually immune to leaks
- Vacuum Precision Filling to ensure optimal liquid levels
- 100% traceability throughout our production process to provide valuable insight and feedback
LCD Display
The EVGA CLX Series features an LCD display to monitor system vitals or play your favorite image or animation on the full-color 480x480 LCD display.
EVGA ARGB Fans
New EVGA-designed ARGB fans provide the best balance of cooling, silence, and peace of mind through a silent Hydro-Dynamic Bearing with a long-lasting 50,000 hours lifespan.
Fit Your Rig
The EVGA CLX Series is built for all types of systems and cooling needs with 3 different sizes of radiators to choose from. Select the CLX 360 for maximum cooling, the CLX 280 for higher-end needs, or the CLX 240 for everything else.
EVGA CLX Software
The EVGA CLX Series coolers feature the EVGA CLX Software for tweaking pump and fan settings, customizing the LCD display, and customizing the ARGB lighting. The software also offers real-time monitoring via the software dashboard.
Pricing and Availability
The
EVGA CLX Series
all-in-one liquid CPU coolers are now available for pre-order, shipping on October 25, 2022. See pricing and links below.
EVGA CLX 360mm AIO RGB CPU Liquid Cooler
: $299.99
EVGA CLX 280mm AIO RGB CPU Liquid Cooler
: $269.99
EVGA CLX 240mm AIO RGB CPU Liquid Cooler
: $249.99