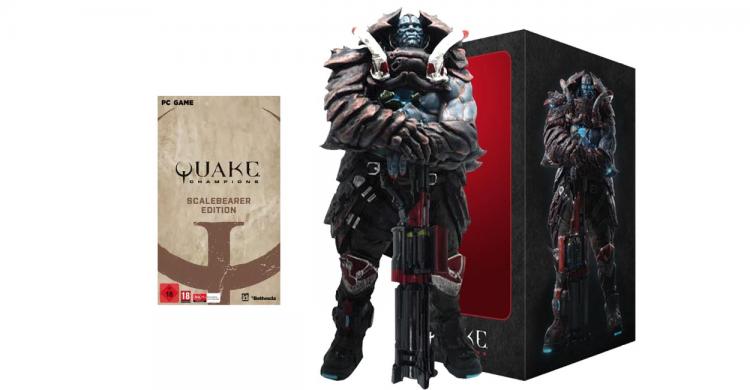 Bethesda announces the Quake Champions Scalebearer Edition featuring a hand-painted 12-inch tall Scalebearer statue and an exclusive Oni Skin along with other in-game goodies. It also comes bundled with the Champion Pack which unlocks all current and future Champions in the game. The Quake Champions Scalebearer Edition is now available for pre-order at selected stores worldwide with a suggested retail price of $79.99USD/£79.99. It is expected to be released during QuakeCon which starts on the 9th of August, 2018. This collector's edition bundle will have a very limited number available.
Quake Champions
Quake Champions is a return to the frenetic, fast-paced competition that established Quake as the originator of the multiplayer shooter genre more than 20 years ago. Quake Champions expands upon the iconic formula of fast and fierce scrimmages based on skill, movement, and strategy with added depth of unique Champions each with their own abilities and styles.
Scalebearer Edition Includes:
- 12-inch Hand Painted Pvc Scalebearer Statue
- Exclusive Scalebearer Oni Skin
Champions Pack:
- Immediate entry to Early Access program
- Access to all current and future Champions
- Exclusive Ranger skin
Availability:
Pre-orders are now available on selected stores worldwide. GAME is the only third-party retailer in the UK where you can buy the Quake Champion Scalebearer Pack. It can also be purchased directly from the publisher.
Pricing:
Australia: $129.95 AUD (EB Games)
UK: £79.99 (GAME)
USA: $79.99 USD (GameStop)
Germany: 89,99 € (GameStop DE)
Learn more about Quake Champions at
https://quake.bethesda.net/