Press Release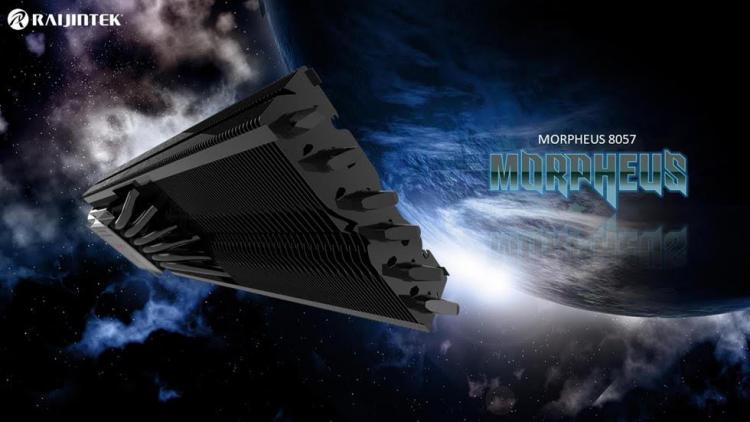 Raijintek introduces the Morpheus 8057 GPU cooler designed to support high-end NVIDIA and AMD Radeon graphics cards. The Raijintek Morpheus 8057 has a cooling capacity of up to 360 watts of TDP. It comes with 12 copper heat pipes and 129 fins offering superb heat dissipation. The entire heatsink is black coated and supports up to two standard 120mm fans (sold separately) with its provided fan mounting clips. The Raijintek Morpheus 8057 weighs at 515 grams (heatsink only) and comes bundled with copper and aluminium heat sinks for cooling VRAM chips and VRM.
Raijintek Morpheus 8057 Features
Black coated heat sink design for stealth
Cooling capacity up to 360 watts TDP
12 pcs copper heat-pipes and 129 pcs fins for efficient heat dissipation
3 pcs copper and 8 pcs aluminium heat-sink for cooling VRAM chips and VRM efficiently
Comes with thermal adhesive for VRAM and VRM to ensure a proper bond and heat dissipation
Compatible with AMD Radeon RX 5700, RX 5700XT, RX 5600, and RX 5600XT Graphics Cards
Compatible with
NVIDIA GeForce RTX 2080 Ti
, RTX 2080, RTX 2080 SUPER, RTX 2070, RTX 2070 SUPER, RTX 2060, and RTX 2060 SUPER Graphics Cards.
Supports two 120mm fans with bundled 8 pcs fan clips.
Quick Specifications
Dimensions (WxDxH): 254×100×44 mm
Weight: 515 grams (Heatsink Only)
Heatsink Base Material: Mirror copper base
Heatsink Fin Material: Aluminium Alloy; Solder assembly
Heat pipes: 12 pcs 6mm diameter
Heat sink for VRAM and VRM:
- 2pcs Copper 85(W) × 11(H) × 6.2(D) mm
- 1pc Copper 50(W) × 11(H) × 4(D) mm
- 1pc Aluminium 50(W) × 14.1(H) × 10(D) mm
- 1pc Aluminium 37(W) × 7(H) × 10(D) mm
- 6pcs Aluminium 5.9(W) × 6(H) × 11(D) mm
Raijintek did not reveal information regarding pricing and availability as of this writing. Learn more about the Raijintek Morpheus 8057 at
Raijintek.com