Few products are more difficult to perfect than small form factor cases. Engineering a chassis to meet the often contradictory requirements of small volume, component support, ease of access and cooling performance is tricky, even before you consider trying to make it pleasing to look at. As a result, it behoves a case manufacturer to take a fresh look at some of their products to ensure it meets the needs of today, and that's something cooling specialists
Raijintek
have pull off in the form of the
Metis EVO
.
The original Metis mini-ITX chassis
dates back to 2014
and was later riffed on as the mATX STYX; only in 2018 was the design sidelined in favour of the
Ophion
, a case heavily influenced by the tempered glass side-panel trends of the time. Raijintek's Metis EVO doesn't just iterate on the original, it largely takes only a few aesthetic cues from its predecessor, favouring a very different approach to internal layout and cooling.
Underpinning the Metis EVO is an emphasis on air flow, and that's realised through the use of an almost dual-chamber design that sections off motherboard from PSU and returns it to a more traditional rear-mounted position. While its footprint is thus enlarged - the Metis EVO is ~260mm wide as opposed to the Metis' ~170mm - it retains a squat height of less than 300mm and means that a 200mm fan can be installed in the front without obstructed air flow. Raijintek even suggest installing an up-to 200m radiator in the front, and the promise of exotic solutions are likely to tempt many an ambitious water cooling enthusiast.
Internal components will benefit from the unobstructed air flow, and it's notable that dual-slot graphics cards up to 280mm and CPU coolers up to 135cm are both supported and should breathe easy. Additional fan mount locations are present in the floor (120mm) and rear (2 x 92mm) for particularly toasty system configurations.
PSUs shouldn't be an issue either. The Metis EVO supports standard ATX and optionally SFX sizes, oriented vertically and with ample cable management options through the motherboard tray. A lack of cable tie hoops in said tray may make it a little difficult to get neat and tidy on that side of the interior, but your high-value components should be in very good shape to show off. In the case's ceiling is a caddy for storage drives - 2.5" and 3.5".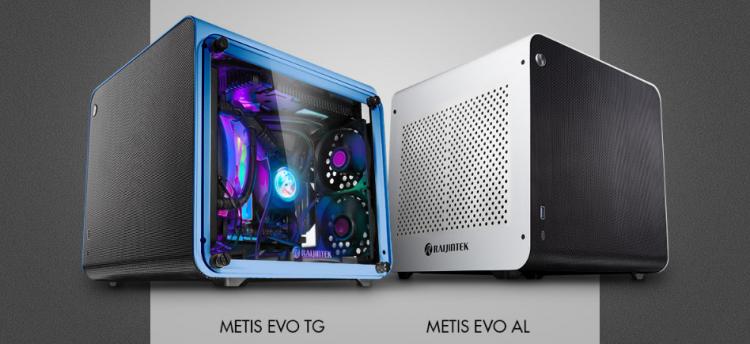 Speaking of showing off the internals, the Metis EVO has the option of tempered glass windows on either side, or alternatively you can opt for one continuous brushed aluminium sheet (with venting) that covers both top and sides. Thanks to the sides and roof being easy to remove, access to the case is open and convenient for component installation. The front fascia is perforated metal acting as front fan intake, doubling as a basic dust filter. USB 3.0 Type-A and Type-C connectors also feature on the front and comprise slightly limited I/O options.
Feature Summary & Tech. Specs
- Compact Mini-ITX case made of anodized aluminium in silver with a silver interior
- Support for Mini-ITX motherboards
- Graphics cards up to 28 cm and CPU coolers up to 13.5 cm in length
- Room for two 2.5" and two 3.5" drives
- Space for a 200mm fan at the front, additional slots for three fans


Dimensions:- 293 x 263 x 290 mm (W x H x D)
Material:- aluminium, steel, tempered glass
Weight:- approx. 2.15 kg
Colour:- Silver (casing), Black (interior, rear)
Form factor:- Mini-ITX

Fan:
- 1x 120/140/200 mm (front)
- 1x 92/120 mm (bottom)
- 2x 92 mm (rear)

Drive bays:
- 2x 3.5"/2.5" (internal)
- 2x 2.5" (internal)

Power supply: 1x standard ATX/SFX (optional)
Extension slots: 2

I/O Panel:
- 1x USB 3.0 Type C (internal connection)
- 1x USB 3.0 Type A (internal connection)

Maximum graphics card length: 280 mm, 220 mm with radiator installed at the front
Maximum CPU cooler height: 135 mm
The Metis EVO is available in five roof/side-panel different colour variants: blue, black, silver, red and white. You can lay down a pre-order today from
Overclockers.co.uk
, where the cases sit at a uniform price of £119.99 inc. V.A.T.
Additional information on the Raijintek Metis EVO can be found at the
product page
.