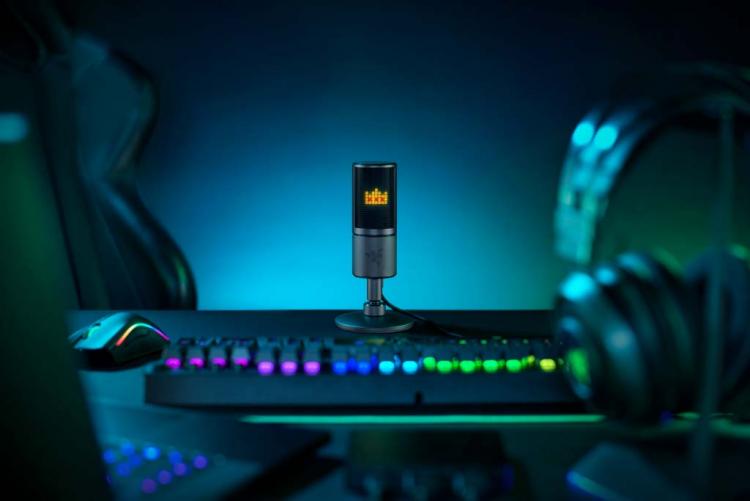 Razer launches its first streaming microphone with an 8-bit Emoticon LED display – the Razer Seiren Emote. The Seiren Emote is the world's first-ever professional-grade streaming microphone with interactive emoticons powered by Razer's Emote Engine, offering streamers a new and unique way to engage with their audience using fun and expressive emoticons. The Razer Emote Engine allows streamers to synchronize emoticon responses on live audience reactions such as donations, follows, chat messages, and more. Users can access hundreds of presets or customize their own emoticons for a more personal touch using the Razer Streamer Companion App.
Razer Streamer Companion App
The Razer Seiren Emote microphone's 8-bit display can show more than 100 static or animated preset emotions or upload or create own emoticon via the Razer Streamer Companion App. The app is an editor and library of emoticons that users can use to have their own set of emoticons to use on-stream. The app also set up triggers that launch emoticons based on live reactions from your audience.
Built For Professional Streaming
Like the Razer Seiren microphones, the Razer Seiren Emote offers professional streamers a professional-grade microphone with excellent voice recording using a hyper-cardioid pickup pattern. The hyper-cardioid pickup pattern is a tighter more focused pattern compared to the regular cardioid pattern for greater reduction in background noise. The Seiren Emote also comes with a built-in shock mount and interchangeable gooseneck for height adjustments.
Razer Seiren Emote Features
8-bit Emoticon 8 x 8 RGB LED Display showcasing hundreds of emoticons on your mic
Stream Reactive Emoticons ready for customization
Hyper-cardioid Condenser Microphone for professional-grade streaming
Streamer Companion App compatible with Twitch, Streamlabs, XSplit, and Mixer
Built-in shock mount to dampen vibrations
Interchangeable Gooseneck for height extension
Plug and Play for fuss-free streaming out of the boxPricing and Availability
The
Razer Seiren Emote Professional Streaming Microphone
is now available at Razer.com for $179.99 USD / 189.99€ MSRP. Coming to authorized resellers by Q4 2019.