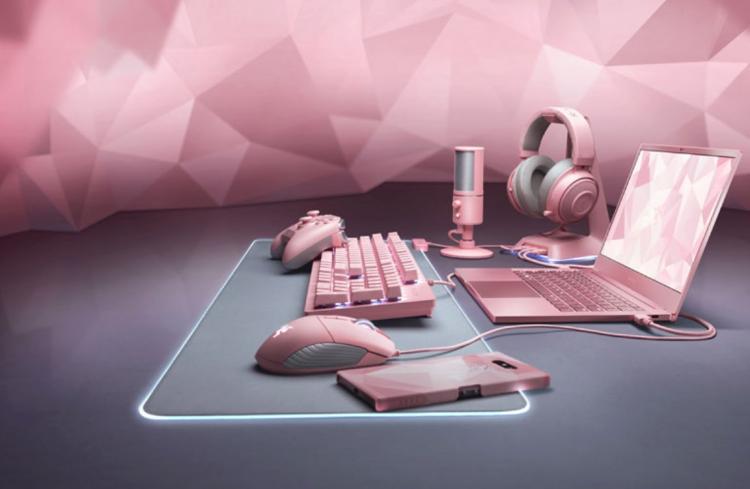 Razer joins the barrage of pink edition gaming components like ASUS and ZOWIE with its line-up of Quartz Pink Edition products. Razer's line-up of the Quartz Pink Edition products includes a complete set of peripherals, the Razer Phone 2 gaming phone, and the Razer Blade Stealth gaming notebook.
Razer
's Quartz Pink colorway was first launched in 2018 to the delight of gamers, streamers, and influencers worldwide starting with four peripherals. Today, the Razer Quartz Pink treatment is given to a more expansive selection of Razer products which are the following below:
Razer Basilisk Quartz Pink Edition mouse
Razer Goliathus Extended Chroma Quartz Pink Edition mouse mat
Razer Huntsman Quartz Pink Edition keyboard
Razer Kraken Quartz Pink Edition headset
Razer Raiju Tournament Edition Quartz Pink Edition controller for PS4
Razer Seiren X Quartz Pink Edition microphone
Razer Base Station Chroma Quartz Pink Edition headset stand
Pink Quartz Case for Razer Phone 2
Razer Blade Stealth 13 Quartz Pink Edition
Razer Blade Stealth 13 Quartz Pink Edition
The Razer Blade Stealth 13 Quartz Pink Edition gaming laptop packs the 8th generation Intel Core i7-8565U processor and can be configured with up to a 4K 13.3-inch touch display with 100% sRGB, graphics option of up to an NVIDIA GeForce MX150 4GB GDDR5 VRAM dedicated graphics, 256GB of PCIe M.2 SSD storage, and up to 16GB of LPDDR3 memory.
Pricing and Availability
The Razer Quartz Pink Edition products are now available on a limited time only. The Razer Blade 13 Quartz Pink Edition gaming notebook is now available only in the USA, China, and Canada regions for $1599.99 USD. See pricing below on the other Quartz Pink edition products.
Razer Basilisk Quartz Pink Edition: USD 69.99 / € 69.99
Razer Goliathus Extended Chroma Quartz Pink Edition: USD 59.99 / € 59.99
Razer Huntsman Quartz Pink Edition: USD 149.99 / € 159.99
Razer Kraken Quartz Pink Edition: USD 79.99 / € 79.99
Razer Raiju Tournament Edition Quartz Pink Edition: USD 149.99 / € 149.99
Razer Seiren X Quartz Pink Edition: USD 99.99 / € 109.99
Razer Base Station Chroma Quartz Pink Edition: USD 59.99 / € 74.99
Quartz Case for Razer Phone 2: USD 24.99 / € 29.99
Learn more about Razer's line-up of Quartz Pink Edition products at
https://www.razer.com/campaigns/quartz