PRESS RELEASE
ROCCAT
today announces the availability of the Inferno Orange, Polar Blue and Hellfire Red variations of the limited edition
Kone Pure Color
. Like the original Kone Pure, the Color edition features a high-end 8,200 DPI Pro-Aim R3 laser sensor and high quality Omron switches. With features like Easy-Shift[+], Easy-Aim and ROCCAT Talk, the Kone Pure Color is a powerful weapon in the hands of gamers fighting for point-streaks, lanes and bases. It is one of a series of limited edition products that will be released over the course of 2013, which marks the "Year of the Kone" - celebrating the five-year anniversary of the Kone series. The Phantom White variation of the mouse will be released later in the year, as well as other limited edition products.
Technical Specifications
* Pro-Aim Laser Sensor R3 with up to 8200dpi
* 1000Hz polling rate
* 1ms response time
* 12000fps, 10.8megapixel
* 30G acceleration
* 3.8m/s (150ips)
* 16-bit data channel
* 1-5mm Lift off distance
* Tracking & Distance Control Unit
* 72MHz Turbo Core V2 32-bit Arm based MCU
* 576kB onboard memory
* Zero angle snapping/prediction
* 1.8m braided USB cable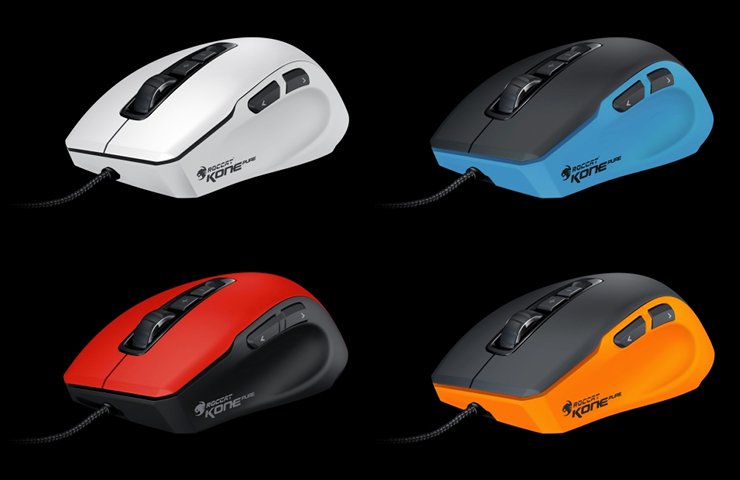 ROCCAT Kone - Evolution of a Gaming Mouse
The original Kone was the first product ROCCAT developed in 2008. CEO and Founder René Korte, reminisces about the beginning days of ROCCAT: "Early on, I was involved in the professional gaming scene. So, I was aware of the many professional players who were dissatisfied with their gaming devices. Since then our overall mission has been to build high-quality peripherals that satisfy the needs of all ambitious gamers."
5 years later, known for its powerful performance, the Kone series is one of the most successful gaming devices in the world. Although the Kone series has set new standards for gaming mice, the evolution will continue, releasing more special editions to look out for in 2013.
--
For more information visit
ROCCAT.org
. Our review of the Kone Pure, in which it achieved an impressive Gold Award, can be found
here
.