PRESS RELEASE
20th October 2014 - Sharkoon.com - Now color comes into play:
The popular Skiller PRO keyboard has been upgraded with an additional function and now, as the
Skiller PRO+
, offers for the first time customizable LED illumination in seven colors. With its familiar 3-block layout it features six macros, three profile and nine multimedia keys as well as multi-key rollover support. Individual customizing of LED illumination can be easily made via key combinations or through the gaming software. In addition to the brightness intensity, the preferred illumination can be selected from seven different colors. A pulsating effect as well as automatic color change underlines the versatility of the keyboard.
Using the gaming software, numerous individual programming of key functions in games and other applications can be effortless made. Macros, macro-loops, keystrokes, delay times and internet functions can all be used, for example. Also, the Windows key can be deactivated and the functions of the WASD keys can be interchanged virtually with the arrow keys. Thanks to programmable macros, planned actions in the computer game can be performed even quicker and are conveniently accessible via each assigned macro key. Programming is very easy and, thanks to the on-board memory, individual settings can be used on any PC system. Also, a total of three profiles can be saved within the keyboard and each can be easily activated using a special key. The gaming keyboard connects via its 150 cm long, textile braided cable with gold-plated USB plug.
Features and Technical Specs
General:

Type:- Gaming Keyboard
Switch Technology:- Rubber Dome
Illumination:- Red, Green, Dark Blue, Purple, Turquois, Yellow, Light Blue
Adjustable Illumination:- 10% - 100%, Pulsating, Color Change, Off
Max. Polling Rate:- 1,000 Hz

Gaming Mode:- Y
Block:- 3-Block Layout
Palm Rest:- Integrated
Weight incl. Cable:- 888 g
Dimensions (L x W x H):- 480 x 190 x 32 mm
Supported Operating Systems:- Windows 7/8/10

Key Properties

Multimedia Keys:- 9
Macro Keys:- 6
Profile Keys:- 3

Function Keys with Preset Multimedia Actions:- Y
Adjustable Key Response Time:- Y
Multi-Key Rollover Support:- Y
Arrow Keys Functions are Interchangeable with the WASD Section:- Y

Operating Life Cycles of Keys:- Min. 10 Million Keystrokes

Cable and Connectors:
Connector:- USB
Textile Braided Cable:- Y
Cable Length:- 150 cm
Gold-Plated USB Plug:- Y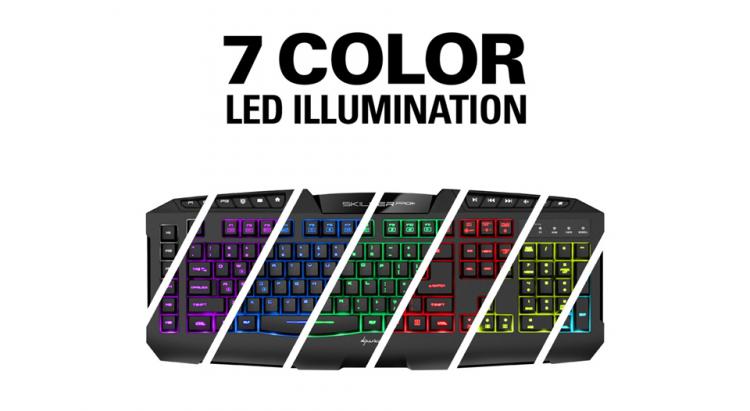 End customers will find the Sharkoon Skiller PRO+ available immediately for the suggested retail price of €36.99 from authorized retailers. More information is available at
http://www.sharkoon.com/product/SkillerProPlus
.