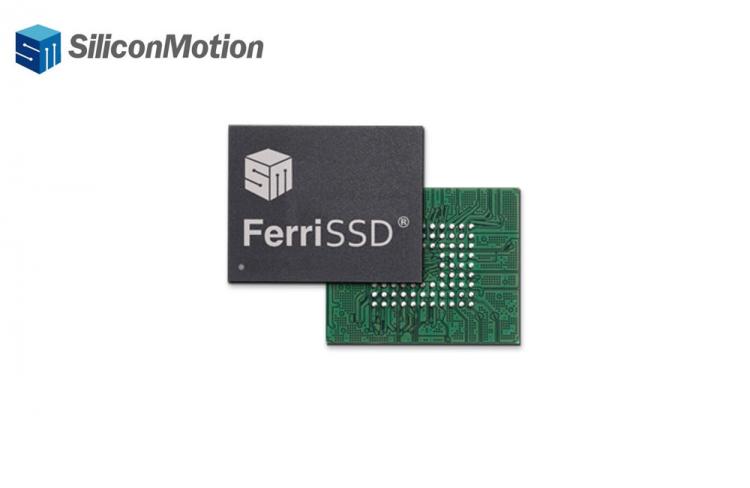 Silicon Motion presents with world's first PCIe NVMe single-chip solid-state drive with enterprise-class data protection – the new FerriSSD. The Silicon Motion FerriSSD uses PCIe Gen 3 NVMe 1.3 interface to deliver high-performance for mission-critical applications. Silicon Motion introduces two FerriSSDs: the SM689 and SM681. The SM689 supports PCIe Gen 3x4 interface while the SM681 supports PCIe Gen 3x2 interface. Both deliver exceptional performance with sequential read speeds of up to 1450MB/s and sequential write speeds of 650MB/s.
The FerriSSD single-chip
SSDs
will come in a wide range of capacities starting from 16GB up to 256GB. Silicon Motion included enterprise-grade advanced data integrity and reliability capabilities on the FerriSSDs through its firmware. FerriSSDs target a wide range of embedded computing applications including the commercial, industrial, automotive and enterprise markets.
FerriSSD Features
- End-to-end data path protection, which applies error correction code (ECC) to the SSD's SRAM and DRAM buffers as well as to the primary NAND Flash memory array
- DRAM data cache to ensure data programming and enable data redundancy, without delaying host processor operations
- Hybrid Zone which enables a single disk to be partitioned into single-level cell (SLC) and multi-level cell/three-level cell (MLC/TLC) zones, enabling faster access speeds and data retention
- Intelligent Scan/DataRefresh protects against the higher data loss from operating at high temperatures
- NANDXtendTM technology incorporating Silicon Motion's proprietary 4th generation high-performance LDPC ECC engine with RAID, ensuring better data integrity even in extreme physical environments
- 16mm x 20mm (SM689) and 11.5mm x 13mm (SM681) single-chip package
- Supports industrial temperatures from -40 to 85 degrees Celsius
- Densities ranging from 16GB to 256GB at launch
The new FerriSSD PCIe NVMe SSDs are under production and products will be on display at the Silicon Motion booth 1.119 at the Embedded World exhibition (Nuremberg, Germany, 27 February - 1 March 2018).
For more information, visit the
FerriSSD product page
.