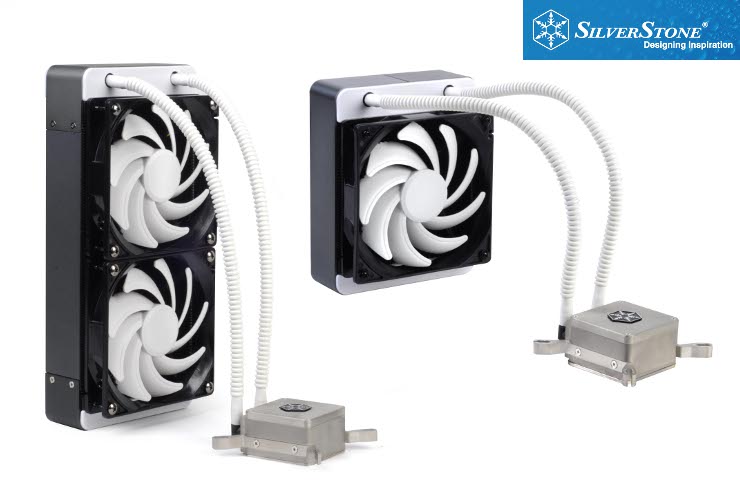 SilverStone
have this week announced that they're rolling the dice and entering the
Closed Loop Liquid Cooling
market with the
Tundra Series
TD02
and
TD03
, but not without a few tweaks to the traditional design. According to SilverStone, changes to the radiator to incorporate a brazing fin style (as seen in high-end air coolers) will allow an improvement in heat transfer by up to 40% over the standard. Meanwhile the water clock is composed of a copper base and aluminium body for better long-term durability compared to plastic designs.
Speaking of durability, SilverStone have included a steel back-plate and aluminium clips for a better overall mounting system. Suitable for the full range of CPU sockets, including Intel LGA115X and AMD AM3+, there should also be few motherboard compatibility problems. Further augmenting the cooling, as well as providing better acoustic control, both TD02 and TD03 packages arrive with two 120mm PWM fans.
The
TD03
is a
120mm radiator
design, a little oversized top and bottom for better flow. It's 159mm tall and at 45mm thick a fair bit larger than you might expect. It's equipped for a Push//Pull design right out of the box, but you will want may need to measure out motherboard and case to ensure that the combination can hand the overall size.
By comparison to the TD03, the
TD02
looks sleek thanks to its
240mm radiator
; however it has the same 45mm thickness of its little brother. Once again it appears to have a slightly larger footprint than some competitor samples - it's 278mm tall - and so whilst it should prove to me much of an issue in most modern ATX towers you will want to double-check to ensure this is the case.
Both TD02 and TD03 are connected to the water-block/pump assembly by two white ribbed tubes, providing a different option to the black tubes more common to the market. As a CLCS neither require filling or heavy maintenance associated with fully-fledged water cooling set-ups.
SPECIAL FEATURES
· Easy installation with aluminum clips and steel back-plate
· Maintenance free, no refill required
· Dual auto adjustable 120mm PWM fans included
· Durable full alloy water-block for improved reliability
· Patented brazing fins radiator increase cooling efficiency by 40%
· Socket LGA775/115X/1366/2011/AM2/AM3/FM1/FM2
Technical Specifications
Model No's:- SST-TD02, SST-TD03
Water block:
Dimension - 60mm (L) x 55mm (W) x 33.5mm (H)
Material - Copper base with nickel-plated aluminum unibody
Pump -
Motor speed:- 2500±200RPM
Rated Voltage:- 12V
Rated Current:- 0.28A

Fan:
Dimension - 120mm (L) x 120mm (W) x 25mm (D)
Speed - 1500~2500RPM
Noise level - 16~33.5dBA
Rated Voltage - 12V
Rated Current - 0.3A
Max airflow - 92.5CFM
Pressure - 3.5mm/H2O
Connector - 4 Pin PWM

Radiator:
Dimension (SST-TD02) - 278mm (L) x 124mm (W) x 45mm (H)
Dimension (SST-TD03) - 158mm (L) x 124mm (W) x 45mm (H)
Material - Aluminum

Tube:
Length - 310mm
Material - FEP

Application:- Intel Socket LGA775/115X/1366/2011 // AMD Socket AM2/AM3/FM1/FM2

Net Weight:
(SST-TD02) - 1501g
(SST-TD03) - 1063
Pricing is interesting: unsurprisingly both models are towards the premium end of the market, but there isn't a huge amount separating them. The TD03 is set for a hefty US$124.80 (excl V.A.T.) MSRP, whilst the TD02 is only a touch more at $141.70 (excl V.A.T.). How this will translate for the UK and EU market is anyone's guess - the price relationship is rarely linear - but we'd expect to see the TD02 at around £115-120, with the TD03 pegged a little lower.
For more infomation on the Tundra Series and other products from SilverStone including chassis and PSUs visit
SilverStoneTek.com
.