PRESS RELEASE
12th December 2013 - Silverstone Technology Co., Ltd.
- For audiophiles, getting the most out of their high-end headphones is more than just about getting the best source or music format. High-end headphones often have higher resistance so if the equipment connected to them are subpar, the sound quality will suffer. With the
Ensemble EB03
, SilverStone aims to provide the power and quality necessary to unleash the full potential of headphones.
EB03's
excellent sound amplification is produced by its internal studio-quality IC (integrated circuit) with premium Op-amp, current buffer, and enhanced power delivery. For discerning users, it also has an extra bypass connection for use with an additional amplifier or receiver. Finished with classic aluminum design that defines SilverStone's longstanding tradition of excellent metal works, the EB03 is the perfect companion to high quality headphones.
Special Features:
• Premium amplifier designed to deliver full sound to headphones
• Classic SilverStone Ensemble exterior design
• Extra RCA bypass connection included for easy pairing with additional device
• Studio-quality IC with THAT 1646W16-U & 1512S14-U
• Independent volume control knob
Besides using the EB03 on its own, users may also pair it with SilverStone's own similarly styled EB01-E DAC to create a great looking, and sounding computer audio system!
For audiophiles with good sound system and sizable digital music collections, the need for a device that can reproduce genuine sound is critical. After a short and successful launch of its first audio product, the
Ensemble EB01
in 2006, SilverStone is back with another USB DAC that is better in every way. To fully satisfy computer users with affinity for higher quality sounds, the
EB01-E
is equipped with the ability to resolve signal rates of up to 24bit/192 kHz thanks to its inclusion of TI's PCM1798 DAC chipset. Complementing it are XMOS XS1 TQ128 USB decoder, which supports asynchronous throughput for accurate sound reproduction and TI's NE5532 OP amp for connection to a power amplifier via integrated RCA output. With three methods of digital inputs via USB, Toslink optical, or RCA coaxial connection, the EB01-E is an excellent device for not only computer audiophiles, but also audiophiles with standalone CD players or other digital audio sources.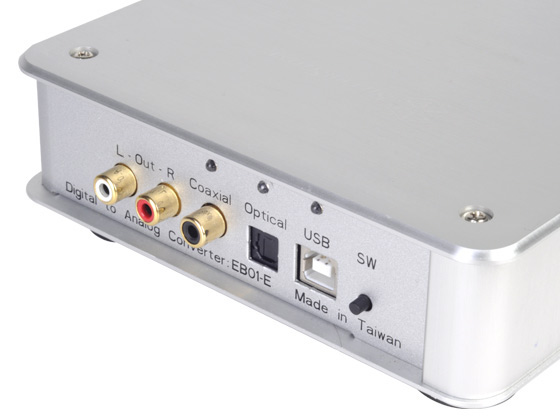 Features
• High quality DAC with improved performance
• Classic SilverStone Ensemble exterior design
• Easy one touch button for USB, optical or coaxial input
• Support highest format of up to 24-bit/192kHz
• Utilizes premium XMOS XS1 TQ128 USB decoder for accurate sound reproduction
• Includes TI PCM1798 D/A converter for producing high quality analog signal
• Includes TI NE5532 OP amp for optimal analog output
You can find further information here:
EB01-E:-
http://www.silverstonetek.com/product.php?pid=443&area=en
EB03:-
http://www.silverstonetek.com/product.php?pid=444&area=en