Team Group introduces two USB flash drives with the latest USB 3.1 Gen 1 transfer interface – the T162 and M161 with OTC Type-C.
Team Group T162 USB 3.1 Flash Drive
The T162 is the winner of the Golden Pin Design Award with its unique and eye-catching design with the combined concepts of ergonomics and convenience. It features an ergonomic grip-ring that rotates 360-degrees. It's artistic ring doesn't only provide appeal, it also helps the user to remove the flash drive in a USB port with only one hand. It comes in two colors – the Stylish Blue and Sweetheart Pink.
Features
USB 3.1 Gen1 (USB 3.0) high speed transfer
Ergonomic grip ring
360°, rotating and four-way positioning design saves space cleverly
COB assembly process offers all-around protection in waterproof and dust-proof
Thoughtful strap-hole design makes it easy to carry and store
Specifications
Model: T162
Interface: USB 3.1 Gen 1 (USB 3.0)
Capacity: 16 / 32 / 64 / 128GB
Color: Blue/Pink
Voltage: DC + 5V
Data Transfer Rate: Read : up to 85 MB/s ; Write : up to 20 MB/s
Dimensions: 28 x 28.5 x 4.7 mm
Weight: 12.5g
Supported Operating Systems:
- Windows 10, Windows 8, Windows 7, Windows Vista
- MAC OS 10.4 or later
- Linux 2.6.33 or later
LED Reveal: No
Warranty: Lifetime warranty
Team Group M162 USB 3.1 Flash Drive with OTG Type-C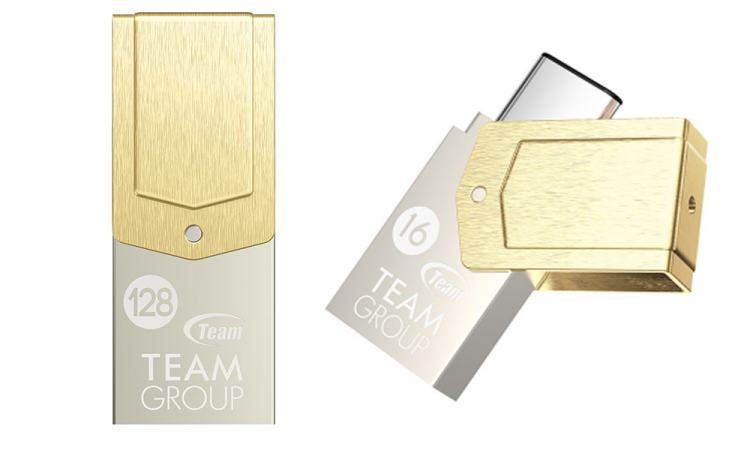 With newer technology and the USB type-C port becoming available, Team Group introduces the eye-catching M161 USB 3.1 flash drive with USB Type-C OTG for Android devices. The M162 features transfer speeds of up to 80MB/s read and writes. It has a 360-degree smart rotating cap so you'll never worry about losing the flash drive cap anymore. The M162 also uses a Chip On Board assembly process which makes the flash drive waterproof and dust-proof thus providing an overall protection for the flash drive.
Features
Dual interface with USB Type-A and USB Type-C ports
USB 3.1 Gen1 (USB 3.0) high speed transfer
Unrestricted mobility that expands your storage capacity wherever you are
Smart rotating cap design prevents cap losing.
COB assembly process: waterproof and dust-proof
Ultra mini and compact design
Specifications
Model: M161
Interface: USB 3.1 Gen1 (USB 3.0) & USB Type-C
Capacity: 16GB / 32GB / 64GB / 128GB
Performance:
For PC: Read: up to 85 MB/s ; Write: up to 20 MB/s (32GB and above)
Color: Gold
Voltage: DC+5V
Weight: 4g
Dimensions: 30(L) x 12(W) x 6.2(H) mm
Supported Operating Systems:
- Windows 10 / 8 / 7 / Vista
- MAC OS 10.4 or later
- Linux 2.6.33 or later
- Mobile devices running Android OS 4.1 or later
With USB Type-C transmission joint smart phones and tablets (the device itself must support OTG function)
Warranty: Lifetime warranty

For more information on the Team Group's T162 and M161 flash drives, see the product page links below:
T162 USB 3.1 Flash Drive
M161 USB 3.1 Flash Drive with OTG USB Type-C