Memory manufacturers
TEAMGROUP
are today launching a brand new SSD for gamers who want to add yet more RGB highlights to their PC, the
T-FORCE DELTA RGB SSD
. A colourful 2.5" SSD with large illuminated zone, the DELTA RGB is compatible with a wide selection of motherboard lighting systems and available in capacities up to 1TB.
TEAMGROUP's T-Force line is designed for gamers, bringing not only performance but also ancillary features that they believe this diverse demographic value. The DELTA RGB SSD brings to mainstream storage the sort of LED illumination that is now ubiquitous among other components - 16.8 million colours in a package that can be addressed and customised - through a large luminous area that dominates the top of the drive. The ratio of luminous to non-luminous areas is 5:3, adding a bright badge of colour or subtle tint, depending on user preference.
The DELTA RGB is to be released in two distinct versions available with either white or black exterior: the DELTA S that's compatible with 12V motherboard RGB connectors, and the 5V ADD connector-compatible DELTA*. In the DELTA S colouring remains consistent across the whole illuminated area, whereas the DELTA (also known as the 'Magnificent' version) is able to vary the colour across the area for complex rainbow-like effects. Naturally, both can be controlled via motherboard RGB synchronisation systems.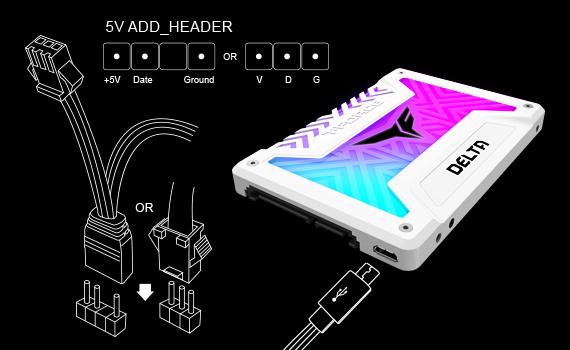 Performance characteristics of the DELTA RGB SSD series are what you should have come to expect from high quality SATAIII SSDs in the 2.5" form factor. Maximum read speeds reach 560MB/s, while write speeds top out at 510MB/s, effectively hitting the practical limit of SATA. IOPS performance is also solid, hitting up to 90K/85K IOPS under 4K Random Read/Write benchmarks. The drive is available in capacities of 250MB, 500MB and 1TB.
Technical Specs:
Model:- DELTA S RGB SSD
Interface:
- DATA: SATA Rev. 3.0 (6Gb/s) – with backwards compatibility to SATA Rev. 2.0
- RGB Signal: USB Micro B type (header cable included)
Capacity:- 250GB / 500GB / 1TB
Voltage:- DC 5V
Operation Temperature:- 0°C ~ 70°C
Performance:

ATTO / Crystal Disk Mark
250GB Read: 560MB/s ; Write: 500MB/s
500GB Read: 560MB/s ; Write: 500MB/s
1TB Read: 560MB/s ; Write: 510MB/s

IOPS
250GB 4K Random Read/Write: 90K/75K IOPS max
500GB 4K Random Read/Write: 90K/80K IOPS max
1TB 4K Random Read/Write: 90K/85K IOPS max

Dimensions:- 100(L) x 69.9(W) x 9.5(H)mm
Humidity:- 0°C ~ 55°C / 5% ~ 95% RH,non-condensing
Vibration:- 20G (non-operating)
Shock:- 1500G
MTBF:- 1,000,000 hours
Warranty:- 3-year limited warranty
You can learn more about both versions of the Team Group T-FORCE DELTA RGB at
https://www.teamgroupinc.com/en/products/t-force/t-force-ssd/
. The drive is due to go on sale worldwide this June 1st, priced at $86 for 250GB, $132 for 500GB and $259 for $1TB.
*5V ADD motherboard compatibility list