We've been remiss in not mentioning
Thermaltake
in our
CES 2014
coverage, and so lets rectify that by introducing you to a bevy of PC chassis incoming in the coming year from the Taiwanese manufacturer. The Las Vegas technology conference has been a major event for them this year, in no small part due to 2014 being TT's 15th year in the business, so it's no surprise that they want to catch a few glances.
Kicking things off is the Core V71, a full tower design for high specification systems. Judging by the evidence it's very much intended built with water cooling in mind with photo's to prove it. It's also possible that the entire drive cage rack is removable for maximum compatibility with large radiators in the front and top, although that might be a modification for demonstration purposes only. Either way it's a modular design which should see approval from many users given a $159.99 MSRP.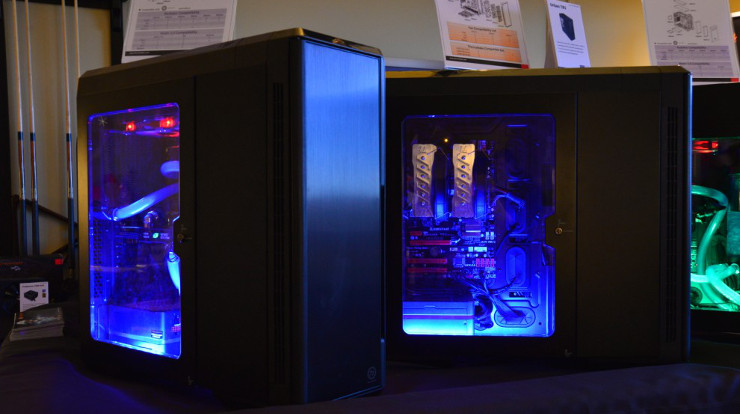 The Urban range is the one most significantly widened with the inclusion of seven new designs. You may recall that Urban chassis are much more refined than many released in the last five year by Thermaltake, featuring sleek lines and unadorned front fascias. New cases build on this ethos.
Urban T81
's are a similar size and internal configuration to the Core V71, accommodating large motherboards and perhaps with options for water cooling (although it comes supplied with three 200mm fans as standard. Unlike the Core V71 its fronted by a door with brushed aluminium effect, making it more suited to an office environment. The side panel window stretches only through half the side panel, hiding the modular drive cages. All in all, it looks to be an interesting proposition at $189.99.
Urban T21, R31 and T31
Urban R21, R31, T21 and T31 designs all occupy the mid-range as towers for motherboard up to ATX in size and pricing ranging from $59.99 through to $89.99. R-range models have a regular front with exposed 5.25" drive bays and a windowed side panel (although the R21 has a smaller window and some perforation). By contrast the T-models each have a door and fully-windowed sidepanel. 'X31' models also include a slot for loading 3.5"/2.5" drives on the top, and slightly more comprehensive front panel I/O options.
Urban S1 and SD1
Catering to mATX and mini-ITX users are the new Urban S1 and SD1, both apparently best sat on your desk rather than under it. As a budget case the $49.99 S1 mounts the motherboard vertically and has a perforated side panel to aid the cooling provided by one 80mm fan, whist the $99.99 SD1 is more comprehensive in supporting 120mm/140mm fans and small radiators. Both follow the aesthetic principles of the rest of the Urban range.
Urban S1 and SD1
Two new Commander and three new Versa chassis are more in keeping with the rest of Thermaltake's line of gaming enclosures. Naturally the aesthetics are aggressive although relatively similar; thankfully Thermaltake have dispensed with perforated side panels throughout each range instead opting for a large perspex window. Versa cases are each priced at a budget-friendly $49.99 and include tool-less HDD installation and some compatibility with liquid coolers. By contrast the Commander chassis weight in $20 more expensive for which you get two preinstalled 120mm fans and two USB 3.0 ports in the front rather than one.
It's always interesting to see new products from Thermaltake, and this year they certainly seem to be more aware of internal liquid cooling compatibility having released their own system. The Core V71 is a prime example, but even the more affordable designs appear suitable for 240mm radiators in the roof. Further supporting the Urban range is also nice to see, hopefully spelling the options for more refined aesthetics from them going forward.
For Thermaltake's full list of CES 2014 reveals including coolers and new peripherals from TtESports visit
http://ces2014.thermaltake.com
.