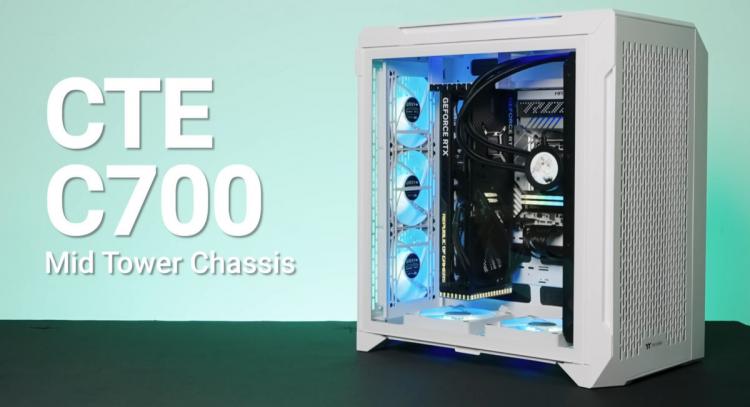 Thermaltake Technology announces the availability of the CTE 700 Air and CTE 700 TG cases on TT Premium Stores and partner resellers. Introduced during CES 2023, the CTE 750 Series is one of the three Thermaltake CTE Series cases demonstrated at the said exhibit along with the Thermaltake CTE 750 Series that are already available in the market today from partner resellers including Amazon US, Amazon UK and TT Premium Stores worldwide. The CTE 700 Series is simply a shorter version of the CTE 750 Series, sporting the same aesthetics, design, and features. Just like its full-tower brother, the CTE 700 Series mid-tower chassis comes in Air (mesh front panel) and TG (tempered glass front panel) versions, and in black and snow (white) colours.Press Release
Thermaltake Technology is thrilled to release the CTE C700 TG ARGB Mid Tower Chassis and the CTE C700 Air Mid Tower Chassis in black and snow versions. The CTE C700 is a compact version of the flagship: CTE C750, featuring the
Thermaltake CTE
Form Factor design and dual chamber design to provide optimal thermal efficiency to high-end components. With maximum cooling support, the CTE C700 comes not only pre-installed with three of the latest CT140 fans, but it can also accommodate up to 420mm AIO radiators. This series has two models, including the CTE C700 TG ARGB which comes with two tempered glass window panels at the front and left sides and the CTE C700 Air possessing a perforated metal front panel and emphasises greater airflow. The Thermaltake CTE C700 is an ideal E-ATX chassis achieving the balance of inner building display and functionality.
Key Features of CTE C700 Mid Tower Chassis
90-Degree Rotation of the Motherboard
The CTE design utilizes a 90-degree rotation of the motherboard providing a more efficient airflow pathway and allowing the cold air to be dispersed on your critical components more effectively and efficiently.
Move Critical Heat Sources (CPU And Graphic Cards) Closer Towards Cool Air
Since the CPU location of the CTE C700 has been moved much closer to the front panel and the graphics card moved closer towards the rear panel, independent cold air induction is given for thermal dissipation of the CPU and graphics card respectively.
More Efficient Intake Airflow
This overall approach has allowed CTE C700 to provide better and more efficient intake airflow through the placement of main components and cooling, as well as optimization to heat extraction from the system.
Create and Display Your Dream Build
Framed to fit your view, the CTE C700 TG ARGB comes with two 4mm tempered glass panels located on the front and left side of the chassis; the CTE C700 Air features one 4mm tempered glass panel on the left side of the chassis. Show off everything from full custom liquid cooling loops to fancy AIOs and fans. To make removing the tempered glass easy there is a small tab located on the upper left corner and to hold things back in place the tempered glass panel snaps back in utilizing peg hooks, which are located on the rest of the panels of chassis as well.
Maximum Radiator Support
The CTE C700 offers multiple mounting locations and plenty of room to create your own configurations. DIY radiators up to 360mm in length can be installed on the front, rear and bottom, and for AIO compatibility, up to 420mm/360mm radiators can be installed on the front and rear, giving PC enthusiasts plenty of flexibility to create their ideal setup.
All Your Dream Cooling Components Can Fit!
The CTE C700 has an enormous fan and cooler installation capacity: up to twelve 120mm fans (eleven 140mm fans) and 360mm/420mm AIO coolers at the front and the rear. Moreover, equipped fan brackets at the front, rear, bottom and right side, and the installation spot at the top ensure easy installation of all your desired cooling components.
Blow Your World Away with Three Pre-installed 140mm CT140 Fans
The CTE C700 TG ARGB features three 140mm ARGB PWM Fans at the front, top and rear. The LED lighting effects can be manipulated with motherboard supported software. Users can create an amazing RGB lighting show while enjoying the utmost cooling performance at the same time. The CTE C700 Air features three 140mm PWM Fans at the front, top and rear. The CT140 fans are the best-performing case fans among all the case fans in Thermaltake's collection so far.
Unify Your Fans with Your Build!
Thermaltake launches brand-new CT series fans, allowing users to choose from black or white, RGB or non-RGB, to match whatever color scheme you have.
Massive Airflow & Incredible Performance
Thanks to the CTE form factor design and three pre-installed CT140 PC Cooling Fans, we were able to ensure that the CTE C700 has massive airflow, guaranteeing amazing cooling performance that keeps the internal temperature low and stable while using the most high-end components.
Display Graphics Card Your Way
Equipped with two different PCI-E slots, the CTE C700 gives you the option to display your graphics card either horizontally or vertically, creating plenty of flexible space for your system. If you choose to install your graphics card vertically, there is an extra riser cable bracket that allows both 90-degree or 180-degree riser cable installation.
Opportunities For High-End Expansion
The Thermaltake CTE C700 offers excellent expandability, allowing you to build the most high-end system you can dream of. It can support up to an E-ATX (12"x13") motherboard, a CPU cooler with a maximum height of 190mm, graphics card clearance up to 410mm in length without a radiator, a power supply with a length of up to 220mm, and up to six 2.5" SSD or seven 3.5" HDD. Optimized for excellent cooling capabilities, the CTE C700 can accommodate up to twelve 120mm fans or eleven 140mm fans, and 360mm/420mm AIO coolers at the front and the rear, providing PC enthusiasts with many options and flexibility to organize their configuration.
Perfect Dust Protection
There are fine removable filters at the top, front, bottom, rear and right side of the chassis to provide excellent protection against dust, and they are easily removable for cleaning.
Handy I/O Ports
The CTE 700 Series cases feature two USB 3.0 ports, one USB 3.2 Gen 2 Type-C, and HD Audio ports are placed on the top panel to grant direct access when needed.
Pricing and Availability
The Thermaltake CTE 700 Series cases are now available at the TT Premium Stores, see pricing below.
Thermaltake CTE 700 Air
(Black and Snow models): US$159.99 / €169.90 (included VAT)
Thermaltake CTE 700 TG ARGB
(Black and Snow models): US$179.99 / €189.90 (included VAT)