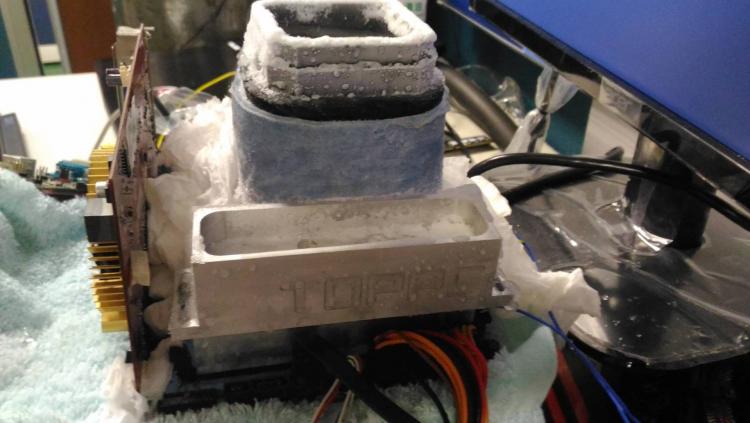 New overclocking World Records tend to come thick and fast around the time a new platform is released, but slack off somewhat as the components involved mature and focus inevitably drifts to upcoming releases. That's not for lack of trying however, and this week
MSI
's resident overclocker
Toppc
was able to hit a stunning new memory record without jumping ship to a new platform; indeed, the components themselves might surprise quite a few people.
Utilising MSI's Z170I GAMING PRO AC, an Intel 'Skylake' Core i5-6600K and G.Skill 4GB DDR4 DIMM (rated at DDR4-2133MHz), Toppc was able to push the configuration as a whole to a new World Record memory frequency of 2501.2 MHz/ 5002.4 MHz effective (DDR4). That's the first time the 5GHz barrier has been breached on DDR4 and beats even the fastest previous DDR3 high watermark. Alongside the man himself plaudits have to go to MSI and G.Skill for supplying components stable enough to even reach this scary mark despite the stresses such benchmarking puts them under.
Based on Intel's Z170 Express chipset, the
MSI Z170I GAMING PRO AC
is a relatively unassuming motherboard compared to the monstrous high-end overclocking designs such as the Z170 GAMING 9. To most consumers the most notable aspect of the model is its size: it sits in an atypically feature-rich mini-ITX form factor, one rarely the weapon of choice for overclockers. Despite this, Toppc was willing to give it a thrashing that only professional overclockers are capable of.
Bespoke settings used to reach this new record were, to say the least, exotic. The CPU was heavily downclocked to <1GHz from its 3.5GHz reference figure, and the system ran in single-channel memory mode with a single populated DIMM slot. Cooling was also extravagant, utilising Liquid Nitrogen (LN2) to keep temperatures on the DIMM module in control.
Although one shouldn't expect to reach these sorts of numbers on a home system, new world records are a valuable learning experience for hardware developers. Lessons learned as their experts push components to extremes will be gradually filtered down into consumer products, bringing additional value to the platform as a whole.
More detailed information on Toppc's DDR4 World Record can be found at the relevant validation links:
CPU-Z Validator
,
HWBOT
.