PRESS RELEASE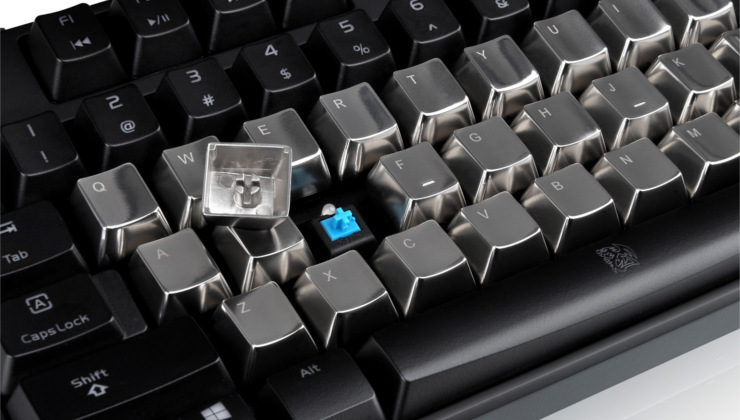 Taipei, Taiwan – July 7th, 2014 – Tt eSPORTS
, the leading expert in professional e-Sports gaming peripherals is releasing the new
METALCAPS
keyboard accessory. Tt eSPORTS wants to come to the aid of the mechanical keyboard community, by putting the METALCAPS in store shelves and on premium e-tailer websites to offer users a convenient way to mod their mechanical keyboards. The METALCAPS are made with a Zinc alloy for overall durability and a solid feel while typing.
The Tt eSPORTS METALCAPS will come in four varieties, as follows:
1. W A S D + Esc key
2. Q W E R + Esc key
3. Arrow keys (Up, down, left, right) + Esc key
4. 38 keys combination (letters, punctuation, arrow keys and Esc key)
Tt eSPORTS METALCAPS will fit with on Tt eSPORTS Certified Mechanical switches/Cherry MX switches with cross shaped stems.
Tt eSPORTS METALCAPS keyboard accessory will first go on sale in the USA, Taiwan and Germany during July with MSRP of $19.99 USD for the three varieties containing 5 keycaps and $69.99 for the 38 keycaps; Global rollout will soon follow after that. Please kindly refer to your local stores for information regarding its availability.
Material:- Zinc alloy
Coating:- Anodized, then UV coated
Compatibility :- Tt Certified Switch, Cherry MX
For more information on the Tt eSPORTS METALCAPS keyboard accessory:
http://ttesports.com/productPage.aspx?p=147
Tt eSPORTS official website and community websites:
Tt eSPORTS official website:
http://www.ttesports.com/
Tt eSPORTS product video link:
//www.youtube.com/user/TteSports
Tt eSPORTS Facebook Fan Page:
https://www.facebook.com/TteSPORTS