With so many competing manufacturers, software license holders and brands in the Virtual Reality space it's perhaps unsurprising that unified standards aren't particularly widespread. That's to be expected from an industry still in its infancy, but remains something of an impediment to development. And so, perhaps as sign that some level of maturity is beginning to set in, stakeholders in the industry have combined to form the VirtualLink Consortium to address one of its most pressing issues: the problem of cabling.
Hooking up a Headmounted Display to a PC right now can require a veritable nest of cables. Transmitting video, audio, sensor data, power and peripheral information; each cable is crucial to a smooth and immersive experience. The problem is that these cables make it an inherently unwieldy device, and much less well suited to the room-space and free-form experiences we want from Virtual Reality.
VirtualLink is set to be an open industry standard which can meet both these and future VR connectivity requirements. The standard utilises an alternative mode of USB 3.1 Type-C which can deliver power, display and data connections between HMD and PC (or other system) that will have the following benefits:
Ease of setup:

VirtualLink replaces multiple cables with a single lightweight cable. It simplifies the setup process and significantly reduces the setup time of VR headsets.

Future proof:

VirtualLink is designed to enable a new level of immersion in VR, with power, display, and data bandwidth specified to meet the needs of future VR headsets. That includes support for four lanes of HBR3 DisplayPort for high-resolution displays, USB3.1 Gen2 SuperSpeed for headset cameras and sensors, and up to 27 Watts of power delivery.

Brings VR to more devices:

The current setup process limits VR to PCs that can support multiple connectors. A single-connector solution brings immersive VR to small-form-factor devices that can accommodate a single USB Type-C connector. These include thin and light notebooks and various other small-form-factor devices.

Open standard:

VirtualLink has been developed as an open standard by an industry consortium of leading silicon, software, and headset manufacturers led by NVIDIA, Oculus, Valve, Microsoft, and AMD. This open industry standard for VR connectivity advances VR interoperability and provides economic benefits to head-mounted display (HMD) makers, original equipment manufacturers (OEMs), developers, and consumers. It will accelerate the development and implementation of new VR technologies.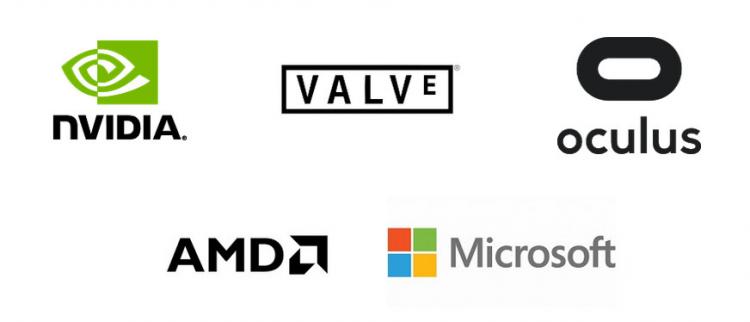 The VirtualLink Consortium isn't some one-man band. It's comprised of some of the biggest names in the business:
NVIDIA
,
Oculus
,
AMD
,
Valve
and
Microsoft
. Plus other interested parties will be able to take advantage of the standard as and when it sees adoption in hardware.
One of the fascinating aspects of this connector standard is that (on PC at least) it would likely need to be physically located on the graphics card. This in tern could be the source of rumours of a new connector appearing on NVIDIA's upcoming GTX 11-series GPU, although it seems like very early days to implement the technology.
More information can be found at
www.VirtualLink.org
. Publication of the VirtualLink 1.0 specification is in the pipeline.
SOURCE:
Via PR