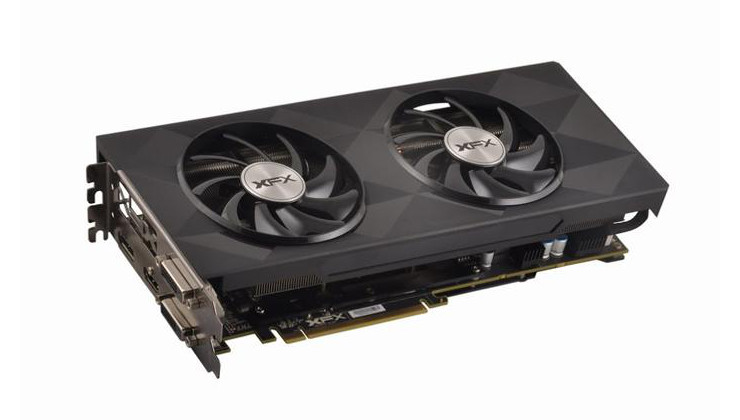 Confusion over
AMD
's Radeon Rx 300 series may come back to haunt the red team as new leaks (via
Guru3D
) indicate that the top of the Radeon 300-series could be once again occupied by a Hawaii or Hawaii-derivative part.
The conventional thinking all the way back in February was that the Rx 300-series would see AMD's architecture take a step down in market segment - i.e. Hawaii would move to the Rx 380 segment, Tonga would become Rx 370 etc. - all to give Fiji room at the top as the flagship R9 390X and R9 390. An OEM release last month of the Rx 300-series cards threw that idea out the window; though it was a simplification of the AMD range, the only significant rebranding was the R9 285 "Tonga" as an R9 380. That said, it was merely for the OEM market... AMD could have other plans for the consumer market (including skipping a number series).
Turns out, they probably don't.
An alleged leak (see: early publication) by XFX and ASUS has revealed retail packaging and limited specifications of the Radeon R9 390-series, and it makes grim reading for those who aren't a fan of rebranding old technology as new SKUs. The XFX R9 390X listed bears remarkable similarities to their own R9 290X, though this particular version comes equipped with 8GB GDDR5 DRAM, tipping us off that doesn't have AMD's Fiji at its heart. A long PCB and familiar double-dissipation cooler reinforces the idea that this is merely Hawaii by another name.
The leak from ASUS, featuring limited specifications, appears to be even more explicit. The R9390X-DC2OC-8GB is listed as having 8GB GDDR5 memory clocked at 6000MHz, with a 512-bit memory interface and GPU clock of 1070MHz. Comparing directly to the
ASUS R9290X-DC2OC-4GD5
this would give it a slight core bump and significant memory speed bump (from 5400MHz), with combined with the larger frame buffer could see it performing well in especially memory intensive titles.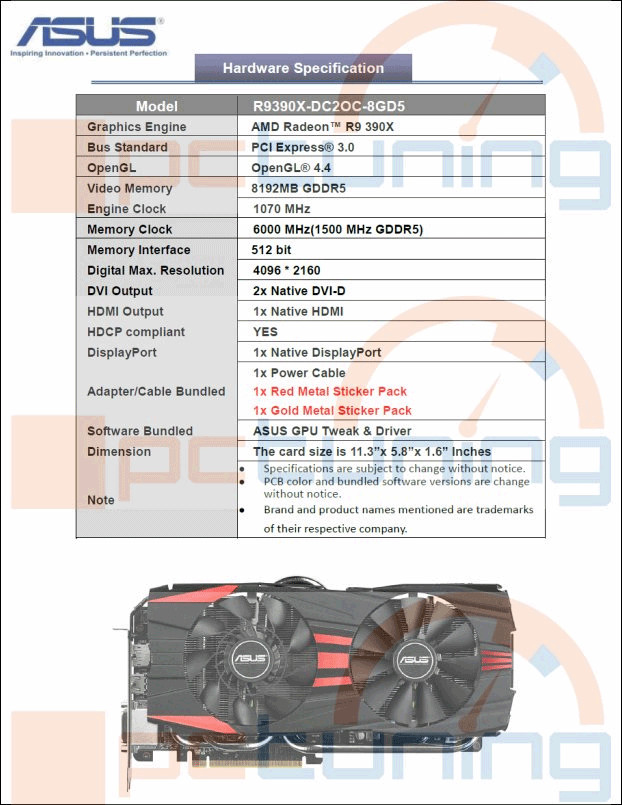 Earlier this year it was rumoured that a
refresh of Hawaii
, known as Grenada, was on the cards; the R9 390 & 390X may just be that GPU. However it was also understood to be only a minor improvement incorporating a more mature manufacturing process, so it's unlikely to even have been updated to reflect Tonga's improved GCN 1.2 architecture (remaining GCN 1.1).
Rebranding GPUs to provide a shiny marketing veneer over old products is certainly nothing new - both AMD and NVIDIA have been guilty of it in the past, although they've tended to bump the SKU down a notch in importance (GTX 680 -> GTX 770) or completely changed the nomenclature (HD 7000-series becomes the Rx 200-series). To perform neither fudge, if only to appease enthusiasts, is decidedly risky given the fickle loyalties of PC gamers.
It's likely that Fiji will appear as a discrete flagship SKU similar to NVIDIA's Titan, likely with a price to match. The name 'Fury' has repeatedly been mooted for the past few weeks. Unlike NVIDIA's naming scheme however this leaves AMD no room to filter down their 'Fury' GPU to more mainstream SKUs, indicating that the technology within Fury won't become affordable to the vast majority of AMD's fans until the debut of the Rx 400-series next year. By contrast, NVIDIA's GTX 780 was released less than four months after the GTX Titan.
More will no doubt be revealed next week at AMD's E3 PC Gaming stream, but now more than ever Fiji/Fury needs to be a
clear
win over the competition.
SOURCE:
Guru3D