Packaging & Bundle
In true ASUS ROG tradition, the Maximus VI Formula arrives in a large red box which has a folding cover giving a sneak preview of the motherboard and extra detail on significant features. Since the ROG series is ASUS premium product line, they have gone to extra lengths even with the packaging.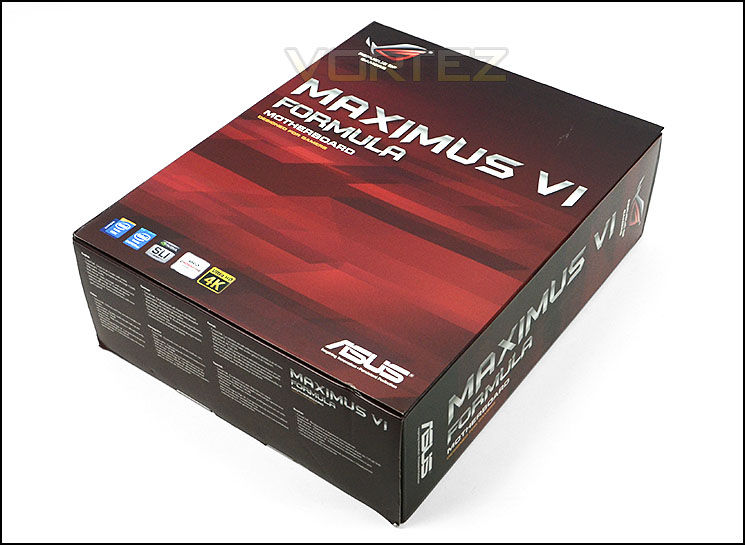 Packaging for Maximus VI Formula
Combined with the packaging the bundle also features additional items compared to the standard motherboard. In fact, Maximus VI Formula and its bundle are rather extensive, covering almost every conceivable avenue. The included items within the bundle are as follows:
• User's manual
• I/O Shield
• 8 x SATA 6Gb/s cable(s)
• 1 x ASUS 2T2R dual band Wi-Fi moving antennas (Wi-Fi 802.11a/b/g/n/ac compliant)
• 1 x SLI bridge(s)
• 1 x Q-connector(s) (2 in 1)
• 1 x 12 in 1 ROG Cable Label(s)
• 1 x mPCIe Combo II card(s) with dual-band WiFi 802.11 a/b/g/n/ac + Bluetooth v4.0/3.0+HS module
• 1 x ROG Door Hanger(s)
Many items included within the bundle
The motherboard itself sits in a large cardboard tray with transparent plastic cover. This has a dual purpose of giving protection during transit and also allows the motherboard to be previewed from the packaging lid.
Unveiling Maximus VI Formula we are met with an attractive and robust looking motherboard. We would go as far as to say that this offering is probably one of the best looking Z87 motherboards currently gracing the market. The ROG armor which covers the majority of the motherboard acts as a two-way feature – ASUS have furnished Formula with this protective shield in order to block unnecessary heat from the graphics card and the robust double sided steel construction strengthens the motherboard preventing it from bending. It also looks really neat too!
Maximus VI Formula conforms to ATX standard measuring
: 12 inch x 9.6 inch ( 30.5 cm x 24.4 cm ).
Maximus VI Formula in all its glory
The underside also features ROG Armor