Bundle
The little carton that forms a cap on top of the trays unfolds to show you the accessories and small parts that come with the Corsair RGB LED fans. The accessories and parts look the same on external inspection, so I'll show you one set.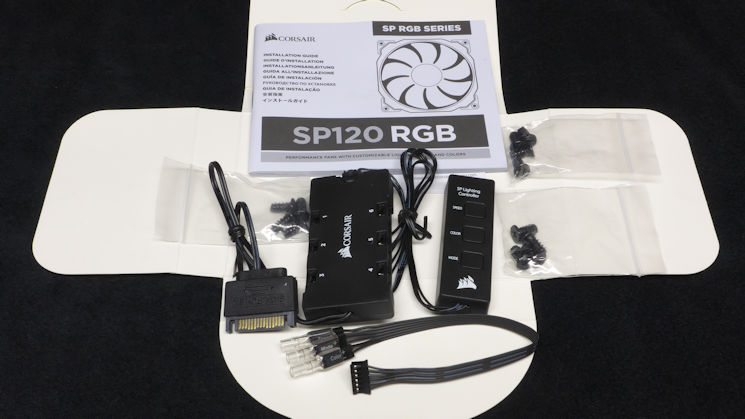 First we have a SATA power connector for the LED controls. Next to that we have one of the three bagged sets of four standard fan screws. At the top we have the user's manual – more on that later. In the center we have the LED hub that distributes the LED commands to up to six fans. The bundled cable comes from the hub and goes to the controller. Next is a folded cable that connects the controller to external switches. At the right we have the LED controller itself.
A picture of the switch connecting cable shows it connected to a cable from a reset switch. This is the kind of switch you find on your case. We have a graphic demonstration, then, that you can control these LED's with external controls mounted on the outside of your case.
What you see now are pages from the manual that show the effects of Color, Mode and Speed Control of the LED's. The differences between the two are in the Demo mode, the Sequential, the Marquee and the Rainbow modes of the HD RGB fans.