Packaging and First Look
CORSAIR have given the K55 the same packaging treatment as their wider peripheral range, treating it as an aspirational design even if it sits in a lower price bracket.
Imagery hints at the broad per-key RGB lighting and hints at the opaque plastic layer just underneath the keycaps that diffuses this lighting.
No-where on the front, nor indeed across the entire package, does it state what type of keys this keyboard uses. That's not deceptive - do you call it 'membrane' or 'rubber dome' and should you explain what that means - but it does mean that you need to be clued in rather than make assumptions about its feature-set if you see it on a shelf. Particularly as per-key lighting is rare outside of mechanical keyboards.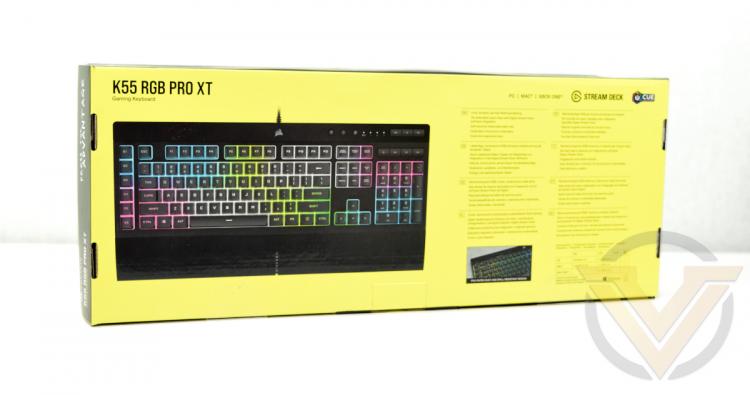 The rear has another picture of the keyboard and explanation of some key features - lighting, macro keys etc. Technical details - including dimensions, polling rate and 12-key rollover capability - are printed on the bottom edge of the package.
Kudos to CORSAIR for also mentioning XBOX support. Games console capabilities are increasing year by year, including support for advanced peripherals, so being up front about what you can expect from the keyboard even if you never plug it into a PC is creditable.
The only accessory to speak of in this bundle is the included wrist-rest; you won't get so much as a keycap puller.