Introduction
Product on Review
:
GV-N75TWF2OC-2GI
Manufacturer and Sponsor
:
GIGABYTE
Street Price
: tbc. Lower clocked version = £120
With the ultra high end graphics cards fast approaching the £1000 mark it is easy to overlook the cards at the entry level costing a little more than a 10th of this price. While the red and green team fight for the top performance spot, there are equally fought battles further down the performance league. The
NVIDIA GTX750 Ti
which we reviewed, impressed with its cost vs. performance figures and of course having the hugely anticipated Maxwell processor on-board it was a very cool performer while also appealing to Greenpeace due to the low power consumption. Those two features, heat output and power consumption were what the card gained awards for so the question has to be asked then why GIGABYTE thought it would be a good idea to increase cooling performance of an already cool running card and allow more power to be pumped through the Maxwell core? We suspect that GIGABYTE were not satisfied with the overclock of the reference design and believe there is more performance to be gained from this GPU through overclocking.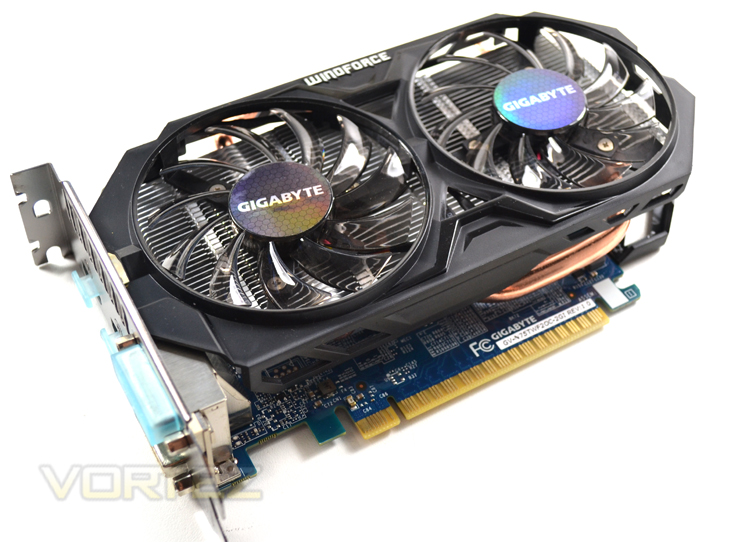 With an impressive factory overclock, we see that GIGABYTE have indeed increased the clockspeed from 1020MHz to a very healthy 1215MHz. The standard OC version rates at a mild 1033MHz so the overclock applied to this model is insane in comparison! The memory clockspeed remains the same however at 1350MHz so we expect further overclocks to be attained from at least the memory but also hopefully the core too. With the additional cooling provided by the now renowned Windforce design and a little extra power available, we expect this card to be quite a pocket rocket.
About GIGABYTE
GIGABYTE was founded in 1986, establishing our uncontested position in continuous technological innovation. By focusing on key technologies and achieving strict quality standards, GIGABYTE has been regarded as an innovative and trusted motherboard leader in the globe. To keep pace in a rapidly changing world, we have offered a comprehensive product line covering Motherboards, Graphics Cards, PC Components, PC Peripherals, Laptops, Slate Devices, Desktop PCs, Network Communications, Servers and Mobile Phones. We are dedicated to building up a full-range digital life, responding promptly and sonorously to consumer needs and desires.