Packaging & First Look
The Kingston HyperX 10th Anniversary kit arrives in a a compartmentalised plastic box. Uppermost is a clear cover which would allow you to see the product inside were it not for the product stickers blocking our view. The stickers tell us that the product is XMP certified (2 profiles) with the main sticker giving us the product code, kit size and speed.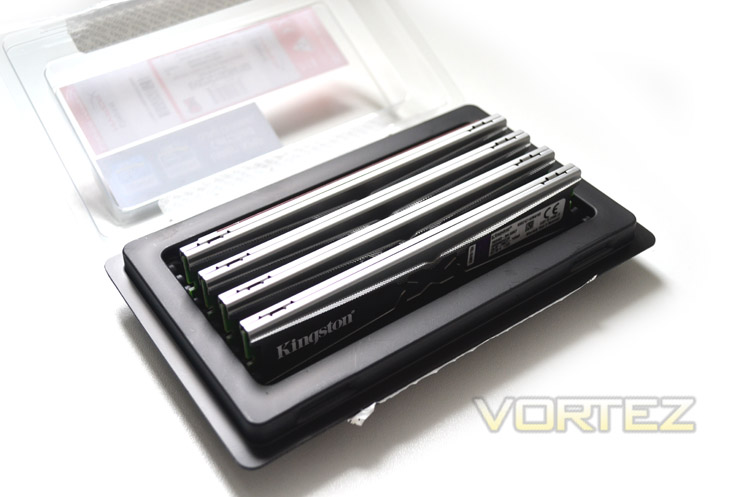 Breaking the factory seal, we get to see the modules which are neatly stacked aside one another. We do like the way Kingston have presented this kit as previously; the modules were flat against the packaging, itself just a simple blister style pack. Here we get to gently remove each module without force from the packaging instead of prizing each module away from the blister pack press stud fashion. Good improvement Kingston!
With the modules removed from the neat packaging we see that they have a very sleek design. The low slung heatspreader is finished in a matt silver paint with reflective highlights in an 'X' design.
The silver design really is eye catching and very stylish. Being silver they will suit most any colour scheme and despite the discreet styling will still stand out from most mainboard designs.
The module specification sticker features numerous serial/batch numbers however there is no mention of timings or bandwidth. Fortunately, as the modules are XMP certified, a quick BIOS change will ensure the optimal settings are easily loaded.
The modules are ideally suited for those who wish to use air cooling, especially for X79 as the module height of just 30mm will ensure that they do not clash with any high end CPU HSF and will fit snugly beneath.
Above you can see just how much a difference not having those large fins makes. The Corsair Vengeance used in our test rig are much taller than the Hyperx kit and certainly present problems when testing large CPU coolers as the fins bump against the CPU cooler heatpipes preventing correct fitment. The HyperX kit will present no such problems.
Taking those low profile heatspreaders off was tricky due to the very sticky thermal interface material connecting the integrated chips to the heatspreader. This WILL invalidate Kingston's lifetime warranty so don't try this at home!
The memory chips used in this kit hail from Hynix and carry a product code of H5TQ2G83CFR-PBC. This tells us that they are 8 bank 256MB, 78ball and are specified to run at 1600MHz with 1.5v at timings of CL11-11-11. Kingston however have programmed these modules to run at 1.65v and have an XMP profile of 2133MHz with timings of CL11-12-11. Not a bad improvement at all I'm sure you will agree. It does however remain to be seen if there is anything left in the tank with regards to overclocking.