Packaging & Closer Look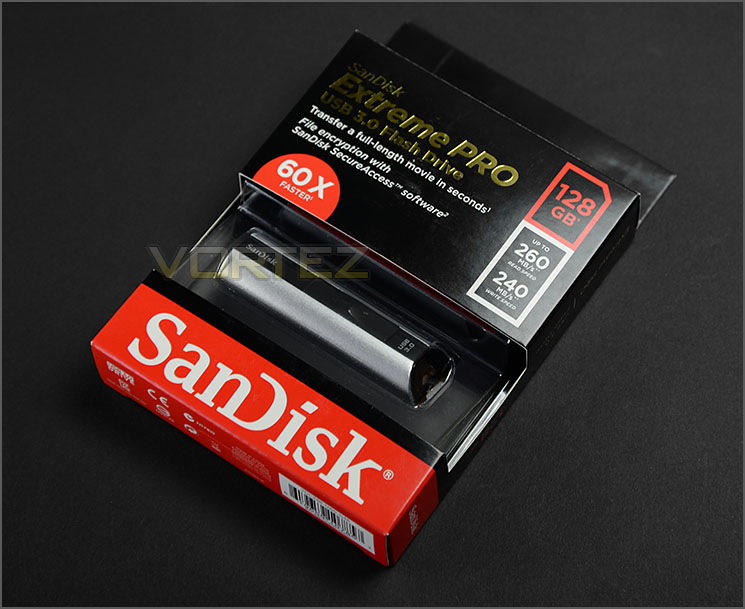 Packaging for Extreme Pro
Just like every other SanDisk product, the Extreme Pro is presented in a professionally designed packet. We've seen items as small and perhaps insignificant as an SD card being given such treatment and this is therefore testament to SanDisk's care and thoughtfulness with their products.
The packaging lists the capacity of the drive and predicted transfer rates. There is even a clear window giving a preview of the flash drive – showing the overall size of this product.
Rescue Pro Deluxe is bundled with the drive
The only item bundled with the drive is a small business card which contains a serial number for
Rescue Pro Deluxe
software, giving users a 1-year subscription. There is no physical CD or DVD with the drive – this software has to be downloaded.
An attractive looking flash drive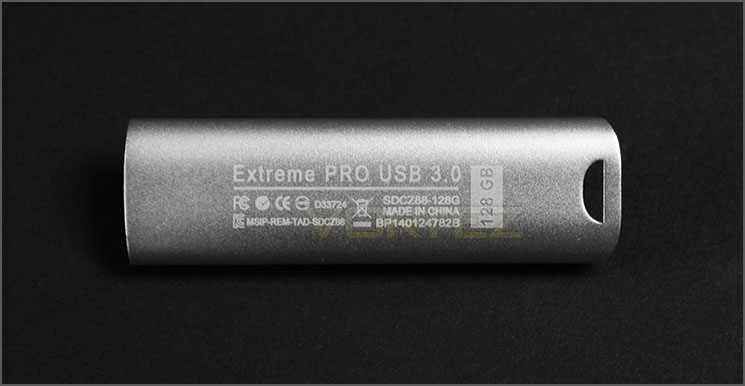 The reverse of the drive
Unveiling the Extreme Pro we are met with a two-tone flash drive which measures 7cm (2.75inch) long. Extreme Pro uses steel and plastic for its construction and is rather minimalist in its overall design. Even though the drive is stylish it also retains a sturdy design thanks to the materials used.
The reverse of Extreme Pro details the product codes, standards and capacity. At the end of the drive SanDisk has given this design a small incision so that the drive can be threaded onto a keyring or string.
Slide-out USB connector
In order to use Extreme Pro, SanDisk has given the drive a slide-out USB connector. This mechanism locks into the hidden and exposed states. Signified by the blue band, Extreme Pro is USB 3.0 but is also backwards compatible with USB 2.0, SanDisk claim this drive can operate up to 260MB/s read and 240MB/s write transfer rates. On subsequent pages we'll be revealing just how close the drive performs to these claims.